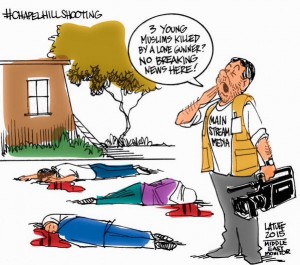 CHAPEL HILL, NC — Muslims gathered in cities around America carrying banners that said, "Je Suis Charlie," after Craig Lee Hicks shot three Muslims in Chapel Hill, North Carolina, allegedly over an ongoing parking row that erupted into a deadly dispute over satire.
According to protesters, they have adopted the "Je Suis Charlie" slogan because they believe the three dead Muslims were aggressively "satirizing" Hicks for Islamophobia before he resorted to a murderous hate crime.
The victims were shot in the head, execution style, reportedly while delivering crude but incisive remarks directed at Hicks. Reportedly, Barakat jokingly told Hicks, moments before his execution, "If you shoot me down I'll become more powerful than you can imagine — over 72 virgins." Despite the satiric intent, this comment is said to have been taken seriously by Hicks, who then flew into a murderous rage as the Muslim students laughed in his face.
Hicks turned himself in to a local police department without incident, smiling when he told officers, "I have taken care of the local ISIS sleeper cell."