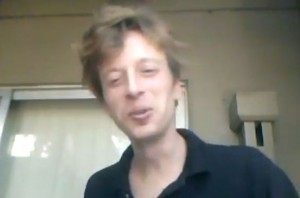 INTERNET — In an exclusive interview, Free Barrett Brown spokesman Kevin Gallagher told Internet Chronicle reporters Barrett Brown "resigned in protest" from Jeremy Scahill and Glenn Greenwald's flagship publication The Intercept.
Brown's row with The Intercept broke out over a story Motherboard later titled What is to be Done? and subtitled It is time to consider alternate systems of governance. 
Gallagher told Internet Chronicle that Brown's editor at The Intercept found the story "problematic," adding "[Brown] resigned in protest and joined VICE." The article was likely rejected as a longwinded, self-congratulating mess that takes far too long to get to a sales pitch that hardly makes sense.
Before spending a half decade in prison, Barrett Brown was the most visible man to be associated with a string of computer hacks done under the icon of 'Anonymous'. Brown's word was often enough to shape media narratives, and as a rule he offended many hackers associated with Anonymous.
Newly free of all parole restraints on publishing, Brown has become only more silent on internet freedom, Anonymous, and the state of the world in general.  His only terse statement expressed no confidence in Anonymous as a force for good and mentioned a new thing called "Pursuants" which will replace them and eliminate the flaws that ruined their organization.
Brown is publishing less stories than when he was in prison and the latest row with The Intercept over his dirty old purusance jibberish has led Dr. Angstrom H. Troubador to conclude that his career as a writer is in trouble. "He's writing a big ugly Mein Kampf style book and the editors cain't control him. Things are breaking down. As a professional psychoanalyst I can tell you this right now, the pursuance fixation is just about power. That he's shifted from a human form of persuasion to some mechanisms of computer code means he's crossed into a psychotic territory and is very unpredictable. Possibly he will just remain in hiding, quarreling editors into dead shit or perhaps he will go full out on the Pursuantism until he's put in prison again. Time will tell."
Ayn Rand's cyberacolyte has always been astray but now maybe he's lost, too busy with Pursuants for this world. Even Brown's spokesperson Gallagher tweeted, "… this Pursuance thing has been stewing for years and it's now time for somethin new."