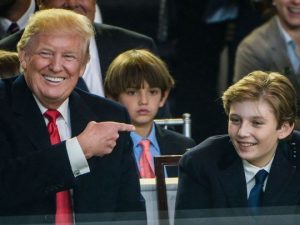 INTERNET — CNN and NBC reports Barron Trump has been reprimanded for allegedly grabbing girls' and women's vaginas at his school and in the White House.
Expert analysis on these networks suggest Barron Trump will surely face criminal charges. After this scandal broke, rumors of an unthinkable pre-emptive presidential pardon have circled around Washington, blowing the bottom off of the Trump administration's now bottomless mire of scandal and perversion.
So far there has been no official message, but the First Lady told reporters at a White House lunch, "The fake news needs to leave Barron alone. I never put him in time out and he never grabbed any women. And to the people on social media tweeting at him, they need to be banned for threatening a child like this."
Barron Trump deactivated his twitter account after social media users criticized him for the alleged attacks. Roseanne Barr tweeted, "This little Nazi is a #PussyGrabber rapist just like his dad, Hitler!" Twitter responded to The First Lady's demands, banning all users who sent Barron rape and murder threats.
Many Trump supporters also took to twitter, celebrating Barron's pubescent masculinity. Thousands of teenage girls and grown women including Laura Loomer tweeted lewd and possibly illegal messages of adoration on the "#PussyGrabMe" hashtag. Several of these accounts including Loomer's have been temporarily suspended.
Internet Chronicle White House correspondents say Barron Trump has been taking it easy, enjoying long bubble baths and ordering pizza, 'self-caring' to heal away the trauma inflicted by social media attacks. Currently he is working on Pokemon Moon. Off the record, Barron said, "There's some good folks on both sides, I guess."