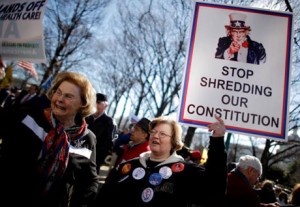 A mob of civil rights activists could change the way a bill becomes law Friday by repetitively chanting slogans.
If enough protesters chant "Nobama," a key piece of legislation is likely to bypass Congressional oversight to become the first law in American history to be introduced by mob rule.
The Washington Bull Party will combine hateful Tea Party slogans with stubborn resolve to collapse the free market and shut down American ports, Bull Party Leader Jamie Jo Corne said in a YouTube video.
"I'm going to Washington, and I'm going to fuckin' throw my sign in their FACE," Corne said. "I want them fuckin' ports closed down. You wanna hurt 'em? Go for their god damn jugular. Don't bitch kick 'em."
Corne accused viewers of being "pussified non-Americans" and said they are just as bad as those illegal immigrants taking over the United States, raping citizens.
Also called the "American Spring," event planners said the demonstration is going to be a real barn-burner. If laws change at the whim of mob rule, then America will take one giant leap toward a greater Democracy.