Wage Jihad on Your Thirst
with #ICES Brand Melted Glacier Water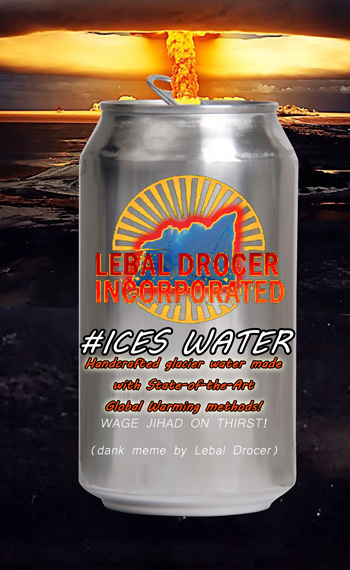 New lead-free, barrel-aged Antarctic glacier water from Lebal Drocer lets you drink CONTINENTS!
Lebal Drocer is proud to announce a neoliberal partnership with HAARP, Nestle and corruptresourceful Michigan governor Rick Snyder.
The shadowy global weather experimentation agency works with Lebal Drocer to create intentional patterns of global warming across key areas over Antarctica to produce the world's purest water – straight from the #ICES of antarctica – by warming the regions directly over that bullshit continent no one was using anyway.
It is by this insidious, clever means Lebal Drocer is able to produce magical, clean water for the destitute and poisoned innocent victims of corporate greedProgress! as well as state and local tyranny. Oh boy! Here's the thrust!

Wage Jihad on Thirst
with #ISIS Brand Water, from Lebal Drocer Laboratories.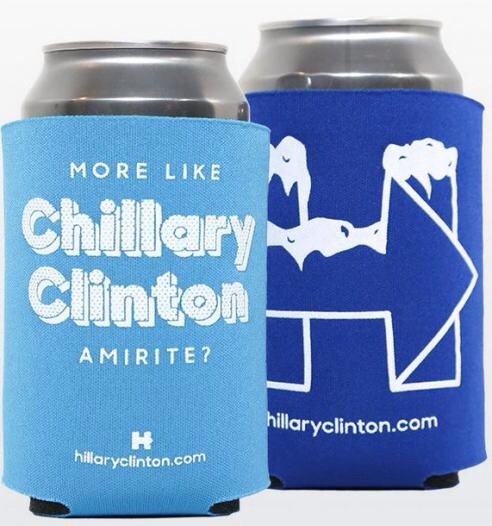 "Hot, hot hate alone will not warm the oceans," warned Dr. Languish H. Brightsun, lead researcher for an independent, state-sponsored studdy by Governor Snyder. Brightsun spoke on condition of payment in their neighborhood of 24 cases of pure, clean bottled water. Brightsun said the results show global warming is good for people, and great for profits. "Having secured independent funding from Lebal Drocer, I now have a promising future in manipulating statistics for years to come, at any human cost."
Brightsun said he and his team are creating premium waterparks, and profiting from the development.
"Tropical resorts for the 1% are appearing in every flooded area HAARP creates," Troubadour said. "And we are proud to announce construction of an advanced, Roman-style aqueduct connecting Flint, Michigan back to the Detroit water supply. I mean, you know things are bad when an entire city is begging for Detroit water. Flint residents have unknowingly agreed to use the same pipes as the infamous aqueducts, which provide +40% food with each level of growth in one of Detroit's most disadvantaged cities. Wow, that was a long quote!"
With help from Governor Snyder, Lebal Drocer is here to profit from that. #ICES Leadfree Water fills a growing need for pure water across all food deserts throughout Flint, Michigan.
Each bottle of pristine, glacier-sourced water will cost an affordable $4.50 cents per 20-ounce bottle. MANY THANKS TO OUR HELPERS AT CNN, MSNBC, FOX NEWS, AND NBC FOR PROMOTING #ISIS WORLDWIDE, FOR LEGITIMIZING THEIR PURPOSE AND PROMOTING REASONABLE DISCUSSION OF BOMBINGS ON THIS HOLIDAY OF PEACE, THE CHRISTMAS OF OUR LORD BABY JESUS. AMEN.
Buy this water, though.
Wage Jihad on thirst, with #ICES Premium Hatewater
Now 100% lead-free, shipped thousands of miles to quench your selfish, Western thirst.
Chronicle Hate Water is a Lebal Drocer Product. Any attempt to steal our intellectual properties will be matched by a production face-off in China, where we will double down on neoliberal aggression and enslave whoever it takes to make a cheaper product.
Microaggressions against Lebal Drocer are punishable by mutilation or death.
Drink lead water today – and melted Antarctica tomorrow! Pour that shit on your face and titties, you filthy animals! WE OWN YOU LIKE LIVESTOCK. You DIRTY ANIMALS!