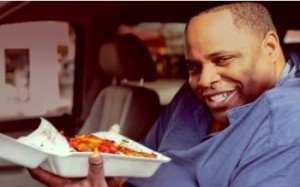 INTERNET — Youtube sensation and fast food review monarch "Daym" of the Daym Drops channel was known for a famous review of Five Guys Burgers and Fries, in which he coined his signature line, "Oh my Dayum." Hundreds of fast food reviewers rallying under Daym's hashtag, #teamdaym, have expressed solemn grief and are mourning Daym's death by reviewing Wendy's "secret menu" quadruple quarter pounder, the last burger Daym reviewed. Daym passed away Wednesday morning from a heart attack.
Joey, of Joey's Super Kool Food Reviews and #teamdaym said, "Daym was the best food reviewer in the whole wee wide worldy, but I'm wambling. I'm wambling! Gang, Daym's reviews were the benchmark for the industry. They separated amateur shot-in-car food chewers and the pros. His closeups of the food, the 'peep game', was a groundbreaking moment in YouTube fast food film and made everything I do possible. Gang, I'm wearing black for Daym."
Around  the nation, fast food restaurants are shutting down as automated FastBoxes replace expensive human workers who have been slowly pulled into the hellish tomb-world of material meaninglessness by the ethereal manifold omnipotent power of global economic forces beyond any human control. Where the restaurants have not closed, the drive through intercom has been outsourced to Mumbai. It seems the high quality fast food we've come to respect and critique has not only died, but so has its soul, which lurked somewhere inside the four hundred pound Daym Drops of YouTube, Twitter, and Facebook.