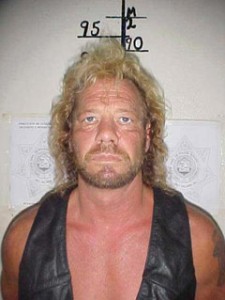 HAWAII — Duane Chapman, better known as Dog the Bounty Hunter, announced plans to enter Russia illegally in order to capture fugitive whistleblower Edward Snowden. Dog, in an impromptu press conference held outside Da Kine bail bonds, said, "Sometimes you gotta bend the rules to save America, and if I can catch this traitor Snowden and bring him back to God's side, then it'll be worth the risk of a lifetime of hard labor in a Siberian gulag."
The reward for the capture and return of Edward Snowden has been set at one billion US dollars, prompting many bounty hunters to take the risk of capturing a fugitive who is protected by the Russian KGB. Dog was recently arrested and released by Mexican authorities for illegally bounty hunting outside of US territory.
When asked if he had a message for Snowden, Dog became agitated and began to rant, "Every Dog has its day, but Snowden, your days are numbered. Me and Beth are gonna catch you and bring ya to justice, the American way. If you're listenin' slick Eddy, the Dog's comin' for ya. You can run, but you can't hide brah. The Dog has picked up your trail."
Dog and his buxom wife Beth were reportedly spotted boarding a jet for Hong Kong, where the couple intends to search Snowden's hotel rooms for evidence.