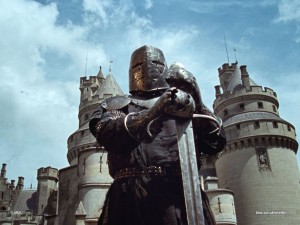 INTERNET — They're known as Black Knights and they've got a message for serial abusers of women on the internet: "We're going to hunt you down and kill you in your sleep."
The alarming new internet trend of trolls and doxxers has caused thousands of suicides of young women and girls. The abuser, or troll, becomes addicted to stalking, harrassing, and targeting a woman, ruining her life in the process. But now, vigilante Black Knights are fighting back.
Unlike so-called White Knights such as the famed knightsec of the hacker collective Anonymous led by Deric Lotsgutter, Black Knights are out for blood and are definitely not revealing their identities. A Black Knight known only as NotAnonymous told reporters, "No one knows we exist. No one knows who we kill. No one knows when we kill. But if you're ruining women's lives for fun on the internet, we'll kill you in your sleep."
Feminists contribute to bitcoin pools on the darknet, an encrypted "underground" of the internet accessed with Tor software, and the Black Knight can collect payment by placing a bid on the abuser which correctly predicts the target's time of death.
NotAnonymous refused to elaborate on the mission of the Black Knights. "We don't have any identity. We aren't doing this to get laid. Most of us don't even do it for the bitcoins. We do it for the same reason the abusers do it. For the lulz."