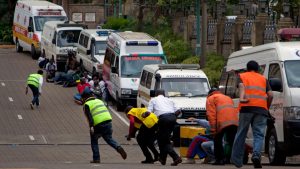 Roanoke, Va. — Roanoke County Deputies say they beat a man back with sticks into a cage Wednesday, after he made first contact with the monster living inside him.
"He said he spoke to his inner child," Sheriff's Deputy Mark Rogers told Chronicle. "That's when I was gave the order 'shoot to kill.' But I said to myself, 'No, this man's white. There's got to be a better way."
First responders said the man had a "glazed, wild look in his eyes" as he was preparing to kill himself near a group of girl scouts selling cookies at the Brambleton Avenue Kroger.
"He seen who he really was," said Dr. Armasten Troubadour, of Health Insurance Memorial Hospital. "And he just seen red."
Authorities say Tommy Jo, a 38-year-old security camera repairman, scribbled this suicide note moments before turning the gun on himself:
You're gonna suffer.

You're gonna bleed.

I'm gonna scream.

I'm gonna feed.

Don't call the doctor.

Don't call no priest.

I'm the devil.

I'm disease.
Friends describe Tommy as unhinged. Some friends, eh Tommy?
Tommy is being held without bond at the Roanoke County Courthouse, where he is getting a good night's rest, and learning to love himself again.