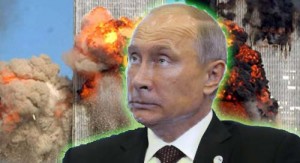 MOSCOW — Vladimir Putin shared top secret Russian satellite photographs showing 9/11 was in fact an inside job. The startling photographs show explosives being loaded into passenger planes at Langley Field and tracks them as they travel to Pennsylvania, New York City, and Washington DC.
Traces of nano-thermite, which is capable of melting the tremendous steel beams of the World Trade Center, were sampled and confirmed by Russian intelligence through moles working at Ground Zero.
Putin clutched at photographs in one hand and positive samples of nano-thermite traces in the other, and said, "We do not want a nuclear war in Ukraine, but the United States does! A small tactical nuke was used on the chemical plant in Donetsk, but not by the Russian Federation. We will fight back with aggressive diplomacy, leaking the worst secrets of the United States. Our nuclear arsenal is a last resort." On a final note, Putin added, "I am not autistic."
The 9/11 Memorial Museum at Ground Zero opened for tourists in May last year and features the official narrative of the terror attack. Thousands of children are indoctrinated by the museum each day, taught a version of events that conflict with the best available evidence and the proof leaked by Vladimir Putin.