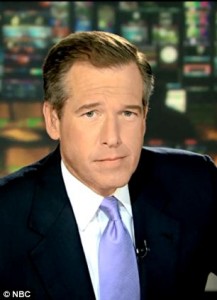 CONNECTICUT — Tuesday evening, Brian Williams was found dead in his New Canaan mansion from what police said was most likely a self-inflicted gunshot wound. The NBC News Anchor was caught lying about facing RPG fire in Iraq and once said he saw dead bodies floating in a part of New Orleans that was not flooded by hurricane Katrina.
Monday, Williams announced he would "take a few days off," but his suicide Tuesday evening has left fans and critics shocked. Friends and family told reporters Williams was, "not happy" and suggested that his career was built on far worse lies that he promised to soon reveal.
Police are investigating the tragic circumstances as there seems to be strong evidence for the possibility of foul play. Police Chief Gerald Hartford told reporters, "Now, there are lots of people with motives to take out Williams, especially military men who have had their valor stolen. That's why we're investigating foul play, but it appears to be a suicide. We're not 100 percent, but that's what it looks like at first glance."
Others speculated that Williams exaggerated and sensationalized his stories as a result of brutal editorial control that the CIA exerts over him and NBC News. As the theory goes, the CIA feared he might reveal too much and had to "suicide" him to keep the wraps on their cloak-and-dagger propaganda operations.