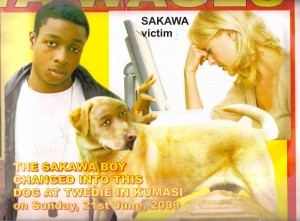 Have your earnings from Sakawa gone dry? Has your Juju shaman failed once again? Are you tired of blood sacrifice, risky rituals, and constantly jumping between Juju priests? Don't be turned into a dog or found dead from AIDs because of bad Juju! Seek the help of Lord Inglip, greatest digital shaman who presides over the entire Internet and can ensure your Sakawa will bring only the greatest of rewards.
You might be thinking, "Why trust the Internet to Juju? Is this magic real?" This is an understandable objection, but let's face it: Sakawa mostly takes place on the Internet. While appeasing the gods of the physical world will help with Sakawa success, these gods are inexperienced with bringing blessing to the Internet, which is an entirely new realm. Only Inglip was born inside the Internet, and only a sacred few prophets and holy men know how to appease his hunger. When Inglip is hungry, all the Sakawa in the world will not bring you money–he eats all your profits!
Luckily, you've found the secret that has brought so many Sakawa practitioners the greatest wealth imaginable. The holy men who make sacrifice to Inglip will help you gain riches for a very small price, and send you a token proving the ritual's success–as well as instructing you on how to best please and appease Lord Inglip, keeping your Sakawa profits skyrocketing.
The best part of making sacrifice to Lord Inglip is the minimal risk involved. No one has ever been diseased or harmed from crossing Inglip; however, at his most wrathful Inglip has been known to destroy computers. Because Inglip only lives inside the Internet, he is only capable of harming computers and not people. However, our priests know Inglip fairly well and can inform you of most activities that will anger him, and your computer should not be at risk.
You can contact Inglip's high priest by email at [email protected] or on Twitter @kilgoar. We understand that your Sakawa has not been paying well lately, so we only ask a very small price to cover the expenses in making the sacrifice to Inglip. Advice on keeping Inglip pleased will be provided free of charge, making repeated sacrifices to Inglip less necessary.