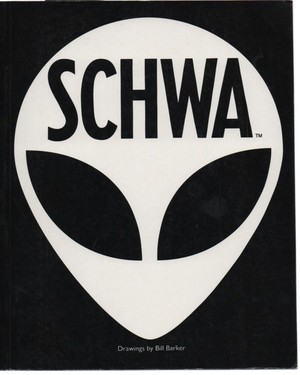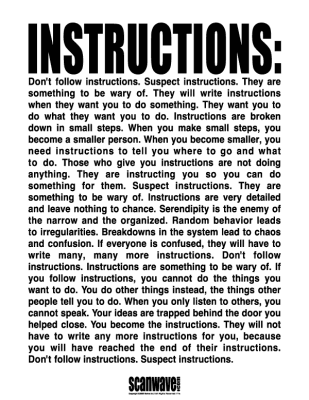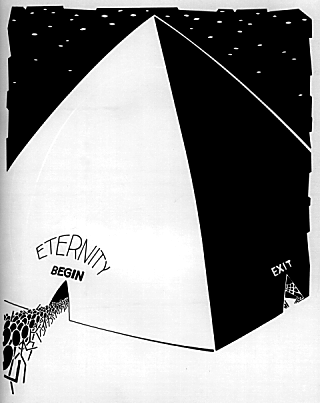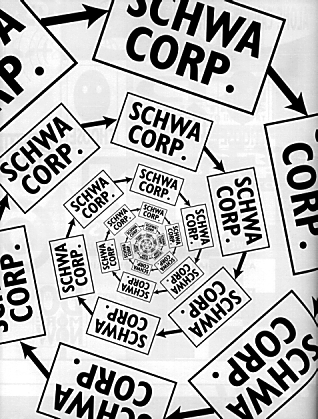 HAVE YOU EVER NOTICED HOW ALL THE CELESTIAL BODIES AND EVERY ASTRONOMICAL PHENOMENON HAS A REAL NAME EXCEPT FOR OUR SOLAR SYSTEM, WHICH IS SIMPLY CALLED "THE SOLAR SYSTEM"?
OF COURSE YOU HAVE! JUST AS EVERYONE ELSE HAS, ONLY NO ONE EVER TALKS ABOUT IT SINCE WE ALL FEEL POWERLESS TO EFFECT ANY CHANGES ON EARTH, MUCH LESS BEING ABLE TO IMAGINE GOING SO FAR AS TO BELIEVING WE COULD DO SOMETHING AS AMBITIOUS AS NAMING AN ENTIRE SOLAR SYSTEM! BUT, NOW YOU MAY HAVE A CHANCE TO DO SOMETHING ABOUT IT! THE SCHWA CORPORATION'S NAME THE SOLAR SYSTEM CONTEST IS HERE! ALL YOU HAVE TO DO IS PUT YOUR IDEAS FOR A NAME OR NAMES FOR THE SOLAR SYSTEM INTO SOME READABLE FORM AND MAIL IT IN. DO IT NOW AND HAVE YOUR THOUGHTS POTENTIALLY IMMORTALIZED ON THE BIGGEST SOLAR SYSTEM WITHIN A FEW LIGHT YEARS OF THE EARTH!
TRY THE SCHWA CORPORATION'S NAME THE SOLAR SYSTEM CONTEST RIGHT NOW. SIMPLY SEND YOUR SUBMISSION WITH A SELF-ADDRESSED STAMPED ENVELOPE TO:
NAME THE SOLAR SYSTEM! P.O.BOX 6064 RENO, NV 89513
.
DISCLAIMERS, INDEMNIFICATION AND LIMITATIONS:
ALL EMPLOYEES OF THE SCHWA CORPORATION, THEIR FRIENDS, FAMILIES AND ANYONE RELATED TO THEIR ANCESTORS ARE INELIGIBLE FOR THIS CONTEST. PRIZES WILL BE AWARDED AT THE SOLE DISCRETION OF THE SCHWA CORPORATION AND THE SCHWA CORPORATION, ITS OFFICERS, ASSIGNEES AND REPRESENTATIVES ARE NOT RESPONSIBLE FOR ANY FEELINGS, DISAPPOINTMENTS, RESENTMENTS, HOPES, FANTASIES OR OTHER SENSATIONS YOU MAY EXPERIENCE AS A RESULT OF YOUR PARTICIPATION IN OR KNOWLEDGE OF THIS CONTEST. THIS CONTEST IS INTENDED PURELY AS A MARKETING PLOY AND THE SCHWA CORPORATION IS NOT BOUND TO ENFORCE THE WINNING NAME OR NAMES FOR USE IN THE ENGLISH OR ANY OTHER LANGUAGE, WHETHER NOW EXISTING OR NOT YET KNOWN. IF YOU HAVE ANY QUESTIONS OR COMMENTS REGARDING THIS CONTEST OR THESE DISCLAIMERS OR ANYTHING ELSE PLEASE THINK ABOUT THEM ALOT. ALL SUBMISSIONS MUST BE RECEIVED BEFORE THE SUN USES ALL OF ITS FREE HYDROGEN AS FUEL.
.
COMING SOON:
THE SCHWA CORPORATION'S NAME THE UNIVERSE CONTEST!
NOTICE: THE FINAL DEADLINE FOR THE SCHWA CORPORATION'S NAME TIME CONTEST! WAS JANUARY 1, 1297. PLEASE UNMAIL ANY NEW SUBMISSIONS AT THIS TIME.
http://web.archive.org/web/20060830123631/http://www.theschwacorporation.com/secure.asp