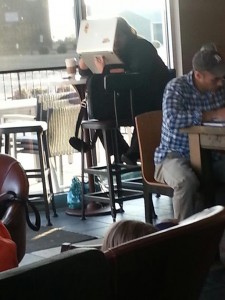 Here at the Internet Chronicle we rarely, if ever, receive hatemail thanks to our impeccable human rights record. It seems, however, that two articles have upset a famous lawyer who is widely known for being a "highly intelligent, highly educated, very personable, very caring, good person," or at least that's how Sue Basko characterized herself after sending us a battery of insulting e-mails.
I've seen the Rustle League torment this "lawyer," something I took no part in, and they now use a "Basko" as the standard unit for measuring easy trolling targets. In one satiric article, I did write up a quick caricature of Basko and clued in readers that it was a joke by changing her name to "Brasko." In another article about her "client," Aaron Bale, Basko's connection to a very strange press release is given a skeptical glance. One update to this article included information taken from a chat log attributed to Bale, which may or may not be legitimate, and after a complaint from Basko I included an extra disclaimer. That wasn't enough. Basko went into full hate mode. Her email has been included in blockquotes, and my email response is in italics.
DEFAMATION REMOVAL DEMAND// LEGAL ACTION WARNING

CHRONICLE:  THIS MUST BE REMOVED IMMEDIATELY in full:

IF IT IS NOT, YOU WILL FACE LEGAL ACTION. You have been warned twice already.

Also, your "publication" must remove any and all mention to me and to any of my clients, including Aaron Bale.  Your publication  must remove all falsehoods and garbage in which I am called "Sue Brasko," and fake photos of me are posted.
The photo is a joke meant to characterize your online persona, and I used the name Sue Brasko in the satirical article to clue people in that it is a joke. I do not care if you find it funny or not. If I had to remove everything someone out there thought wasn't funny, I'd no longer be able to write anything.
The "writer" "Kilgoar" is not a good writer, posts lies, posts defamation (insulting lies). This "article" is filled with nothing but defamation. Much of it is defamation per se, meaning it is such bad defamation on its face that damages are assumed.

THIS ARTICLE ALSO ENGAGES IN OBSTRUCTION OF JUSTICE against Aaron Bale. "Kilgoar" is posting lies intentionally, trying to interfere with an FBI / NSA investigation.
[NSA investigation? Seriously?]
The article linked above uses indeterminate language, "Chat logs show claims," and I even updated the article despite the insulting tone of your complaint, because I am actually interested in getting to the truth behind Aaron Bale — excuse me — Cliff Potts and his laughable press release.
 IN addition, this sick person "Kilgoar" has engaged long term in a hate and lies against me and my clients and those I assist.
Extraordinary claims require extraordinary evidence. For the record, I have no personal feelings against you, even after emails like this. I do feel a bit sorry because they seem to indicate an emotional problem.
[I wrote one silly story and now I'm involved in a long term hate campaign!]
This person MUST CEASE AND DESIST.  YOUR "PUBLICATION," ITS OWNERS, ETC CAN BE SUED FOR DEFAMATION AND OTHER CAUSES OF ACTION BASED ON THIS.

IN ADDITION, we are filing criminal complaints against "Kilgoar" for posting links to false IRC chats and now for posting falsehoods against Aaron Bale. 

You are allowing a mentally disturbed, demented, unprofessional, dangerously deceitful  person to write for you.
Please understand that I amended the article with all pertinent information after you claimed these were false IRC logs. Remember I never framed them as true to begin with. It would be unreasonable, and in fact irresponsible, for me to dismiss these chat logs altogether. As for "falsehoods against Aaron Bale," you haven't named any specific things you'd like me to look into or possibly fix. I will not respond to bullying like this, as you have no interest in correcting any possible mistakes or even mentioning them — you just want to scare me into taking the article down with no legal basis.
PLEASE NOTE:  We have received extortionate emails and are having those traced.  We strongly suspect those came from "Kilgoar."  The FBI is also investigating those emails, because it is a person trying to create an obstruction of justice.

THERE IS NO ONE ELSE TRYING TO INTERFERE WITH AARON BALE, other than "Kilgoar."  This same sick person "Kilgoar" also attempted to meddle in the case of "Aaron Socio."
I am inclined to believe you are a persona created by Bale.
I'll get you, and your little dog, too! What a world, what world! [Basko then melts]
 That last part wasn't really in her email, but it sums up the responses that came next.
Re: DEFAMATION REMOVAL DEMAND// LEGAL ACTION WARNING

To "Kilgoar" and the Chronicle.Su Owners:

 You have been asked politely to remove the "articles" because they are lies, defamations, smears, and misinfo.

My next step is to file a lawsuit against you/ the Chronicle, and/or to report you to the FBI for interference in my legal work and in their investigations, as well as for repeat online harassment.

My online persona, as well as my in-person persona, is of a highly intelligent, highly educated, very personable, very caring, good person.  I am called upon regularly to assist both nationally and internationally with situations involving media, internet, and the law.

The fact that you need to tell lies about this, and smear me, shows what you are about.  And it isn't good.

When you mock and lie about a good, helpful intelligent person – -that does not make you look smart. It makes you look bad, unhelpful, and stupid – – which is how everyone views you.  You are what you do, and that is what you do.
DAFAMATION DEMAND FOLLOW-UP

TO WHOM IT MAY CONCERN:

The Chronicle.SU and "Kilgoar" have published lies, defamation, false photographs, links to false materials, etc. against both me and my clients.

I have previously sent a take-down demand.  I received an utterly asinine response sent from "Kilgoar."

My next step is to file a lawsuit against the Chronicle and its "writer," and/or to file FBI complaints for continuous internet harassment, interference with my legal work, interference and trying to frame one of my clients, creation of false evidence, etc.

I will also publicize and spread the word to any and all of your advertisers that you are doing this, along with the moronic  responses from "Kilgoar."

MY INTENTION IS TO BEGIN THIS EVENING.

Sincerely,

Susan Basko
ATTENTION: CHRONICLE.SU / "KILGOAR"

The Chronicle.su and the "writer" using the pseudonym Kilgoar have posted a photograph of Aaron Bale the copyright of which is owned by Aaron Bale.  The photograph has appeared on Chronicle.su numerous times as well as on links posted by "kilgoar" on Twitter.

Use of the photo is a violation of Copyright law and can subject you to payment of up to $150,000 for each violation/ use.  Willful use of the photo can also be punished as a criminal offense.

ANY USE OF THE PHOTO AFTER THIS NOTICE HAS BEEN SENT SHALL BE DEEMED WILLFUL.

You do not have permission to use ANY photo of Aaron Bale.

YOU MUST REMOVE ALL PHOTOS OF AARON BALE FROM THE 

CHRONICLE.SU

, OFF ANY LINKS APPEARING ANYWHERE, AND MUST NEVER REPORT.

NOTICE: DMCA NOTICE.

Signed:  /Susan Basko/  Lawyer for Aaron Bale