Tea Party Nation was recently raided by Anonymous and thousands of Tea Party Cultists found themselves viewing NSFW porn and gore. Since then, their "Forum," which actually consists entirely of threads by Judson Phillips, has clamped down on the free expression of outsiders.
Listed specifically as satire and entirely relevant to the conversation, links to Chronicle.SU led to the banning of Kilgore Trout from Tea Party Nation's fascist forum. No abuse took place on the part of Trout.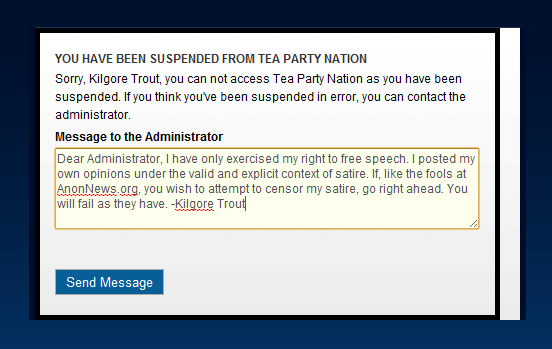 Free Speech is not one of the platforms of the Tea Party. The Tea Party has been known to side with Chronicle.SU in criticizing the Left's attacks on free speech, but their anti-satire stance has rewarded Tea Party Nation moderators with the honorary title of Hypocrites.
The Tea Party Nation's behavior is nothing short of Fascism. Invoking the threat of Anonymous was all it took for the moderators to seize complete control over all ideas that are put forth on their "Forum." The fact that nearly 99% of threads are written by the founder of Tea Party Nation speaks for itself~Kilgore Trout