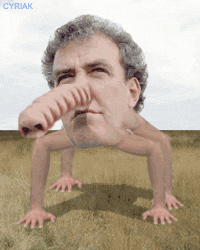 British television program Top Gear is under fire after staging yet another hilarious electric car malfunction. Despite the nature of these humorous works of fiction, electric automobile manufacturers are not laughing. Top Gear is already facing litigation from Tesla motors for their depiction of Tesla's all-electric roadster. New controversy over a segment on the Nissan LEAF has ignited yet more fury in those who believe everything they see on Top Gear.
As it turns out, the Nissan LEAF spied on Jeremy Clarkson, reporting his GPS position, battery levels, and voice stress analysis to Nissan headquarters. A lie detecting algorithm was tripped, and Nissan's robotic lawyers were pulled out of cryogenic storage. British news publications have been paid under the table by Nissan to report on this story and instructed to ignore the proper context. For whatever reason, they think they can convince people Top Gear isn't a bunch of jokers who have to lie if they want to please their audience.
"Nissan has a monitoring device in the car which transmits information on the state of the battery. This shows that, while the company delivered the car to Top Gear fully charged, the programme-makers ran the battery down before Clarkson and May set off, until only 40% of the charge was left." ~ George Monbiot (The Guardian)
For whatever inexplicable and insane reason, the fictional nature of many Top Gear segments is more outrageous than the horrifying fact that Nissan will tattle on anyone who uses their cars. Any future owners of the Nissan LEAF should be forewarned: This is not the car for an affair.
In related news, Top Gear is also facing anger from annoying tightwads due to praise from Norway mass-murderer Anders Breivik. In Norway, angry citizens have demanded that Top Gear be banned from television.
"Jeremy Clarkson heads the program Top Gear at the BBC, one of the funniest shows on TV. Since it has absolutely nothing to do with politics or religion, only with cars, it is one of the very few programmes at the Burka Broadcasting Corporation still worth seeing." ~ Anders Brievik (Justiciar Knight and Martyr for Christendom)