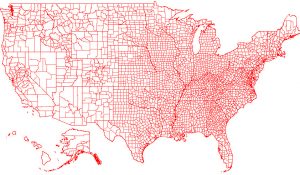 INTERNET– Donald Trump's spokesperson Kellyanne Conway unveiled a "huge" new plan for a series of walls that will not only secure the Mexican border, but every single state border as well.
"With states like Colorado and California providing sanctuary cities for illegals and openly trafficking in illegal drugs, it's not enough to build just one small wall," Kellyanne Conway told reporters on CNN. "We've been looking at a more ambitious program to build walls on state borders, too. In some places we're even looking at walls around counties, towns, or cities."
Political scientist Dr. Angstrom H. Troubador told reporters, "Trump and his sons are going to cash in majorly on what promises to be the biggest building program of all time. They're going to build a grid of walls across the entire nation, the equivalent of 10,000 Great Walls of China. By restricting the movement of citizens in this way, Trump will be able to effectively sanction local governments. By the time they're done outlining every county, they'll probably keep building and building. Walls around neighborhoods, walls around homes, walls inside of homes dividing up families."
Trump's spokesperson also hinted to reporters at CNN on future plans for an "Atlantic Wall" that will line the coasts and prevent any possibility of invasion or illegal migration through the ocean.