INTERNET – Wednesday, Papa John Snader of Papa John's Pizza unveiled a new watermelon and fried chicken pizza set to hit pizza joints around the nation next month. This comes after neo-nazi groups celebrated Papa John's pizza franchising as the "official pizza of white supremacy."
Appearing before cameras, Papa John told reporters, "There are good folks on both sides, and we wanted to make a pizza that represents this American ideal. Sales are tanking from the spoiled 'black lives matter' billionaires taking a knee and ruining the NFL season, so we thought we'd come out with an All-American pizza that sent the message that All Lives Matter."
Papa John Snader discussed how he intends to push the "inclusive" philosophy which inspired the release of fried chicken and watermelon pizza, "Better Ingredients and Better Pizza, on their own, are not enough to stave off the hatred and pedophilia infecting American society, Hollywood, and our competition in the Pizza Industry, so we've rolled out a new cutting-edge social media campaign with a powerful firm in Russia. They've proven their ability to get the message out more quickly than any other free market solution."
Some critics are not thrilled by what they see as Papa John's amateur foray into the tense political climate. Race scientist Dr. Langstrom H. Thurmond said, "Fried Chicken and watermelon on a pizza? This is an insult to all of humanity and not just black people. Frankly, I'm mostly disgusted on a culinary level, and I think it's the pizza that these sick white souls deserve."
White supremacists at the Daily Stormer quickly published a story suggesting weekly pizza parties are the best way to celebrate solidarity during the NFL boycott.
"These ain't the kind of pizza parties you read about in Wikileaks," wrote Weev, Daily Stormer's Chief Techinical Officer.
Weev also commented on Papa John's mistreatment of workers, suggesting the oppression didn't go far enough. "They suffer and provide for their own healthcare, as it should be, as is Odin's Will. When Barack Hussein Obama attempted to compel employers to cover employee healthcare, it was Papa John himself who bravely stood up to el presidente's decree by reducing his black and mexican slave hours to just below the weekly maximum limit of 32, and also sparing them Obama's Death Panels. What a wasted opportunity. Papa John could do more for the white race."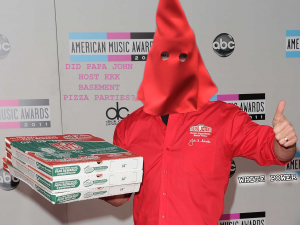 In the same long and rambling story, barely stitched together like some febrile dream, the racist publication also claimed that Papa John ultimately pledged his undying support for White Brotherhood in exchange for access to key ingredients once thought unobtainable. Although kept secret, analysts suggest they are probably the same active ingredients found in Brain Force Plus and Super Male Vitality.
The story featured an obvious photoshop of Papa John donning a crimson Imperial Wizard hood to match his trademarked pizza delivery uniform.
Daily Stormer concluded by blaming Democrats and Black Lives Matter for all the racism, citing a dubious leak obtained from Hillary's personal outbox and addressed to Malia Obama. "I can never get enough Comet Pizza," it reads. "Just you wait, little bitch, till you take a knee and I sink my pearly white chompers into a floppy, greasy, slimy-ass slice of that pizza dipped deep into Momma's hot sauce."