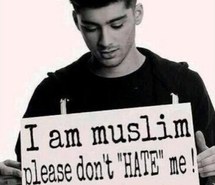 INTERNET — Boy band star Zayn Malik has joined forces with Islamic terrorist group ISIS, after his former group, One Direction, waned in popularity and was torn apart by feuding.
Authorities say Malik self-radicalized by interacting with jihadis on the social media web site Twitter. Malik deleted a tweet just a few days ago that said, "One Direction — Islam!"
Malik has already put his talents to use and joined the Chanting Emirs, a traditional music group that produces Islamic chants and propaganda pop tunes for the Islamic State, selling its edgy, sexy image particularly to teens fed up with Western values.
UPDATE: Young girls, smitten with Zayne, have promised to join ISIS on the #JoinISISforZayn hashtag in a bid for the possibility of being Zayn's wife. The #cut4Zayn hashtag similarly encourages young women to cut themselves in a desperate plea to get Zayn to give up his life as a terrorist.