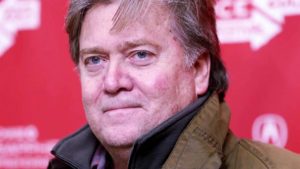 WASHINGTON, D.C.–Globalist hologram Donald Trump, who simply could not pass up last week's opportunity for "biggest termination yet," held a private White House ceremony, where the Trump cabinet bore witness to the "degrading, pathetic and shameful" termination of Steve Bannon, the parrot who fed Trump talking points about issues ranging from global warming to isolationist policy.
The media is hush on reasons behind Bannon's possible firing. No one is ready to talk about it, but some have acknowledged it has a "you done fucked up, son" sort of vibe about it.
One source, however, discussed the ceremony under the condition of anonymity, because of their close association with the current administration's line of executive, jewel-encrusted cat litter boxes, and because the media should keep its mouth shut.
"They took Stevie to the back first," the source told Internet Chronicle on Saturday. "I don't know what they done to him, but when Stevie came out, he looked like he'd been touched, sexually, by an angel. It was beautiful."
The source told Internet Chronicle nude figures in hooded cloaks surrounded Bannon, chanting the DOW Industrial Average in realtime as they closed in on him.
"Then they pulled up the sheets they were wearing, they squatted down, and took turns defecating on his face," the source said. "One by one, ExxonMobil executives and defense contractors took turns dehumanizing the little old feller until he refused to talk. They were yelling at him, too, going, 'Money [T]rumps ideology!' It really worked us all up into a sympathy for him, after it was over."
The source said there is no way to tell whether the corrective Oval Office ceremony will have any lasting effect on Bannon's mental health, but already, other radical media personalities are feeling the sting of timeout, as Adults from the Government entered the room.
Alex Jones descended into an uncharacteristic tirade last week, when it looked like White House access could leave with Steve Bannon. All the toys were out, when the Daddies got home.
"It was balls out, man. Balls out."
Trump is playing the quiet game, now that it looks like crazy baby missiles can hit California. Un awaits…