A Las Vegas bartender was taken in for psychiatric evaluation after colleagues reached out to authorities, warning their friend's behavior and personality had become unusually warm and relatable. Deputies agreed David Burkstrom was a threat to himself and a nearby mall where he was known to shop, and he was arrested Wednesday afternoon as he left home for work.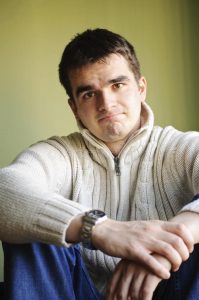 "I stopped David as he was walking to his car" Sheriff's Deputy Matthew Digsby said in a press conference. "I was with my partner. David raised his eyebrows. He smiled, showing us his teeth. That was when we saw life in his eyes, and that's when I knew he was present and dangerous. We took him out."
Authorities later admitted they had already begun tracking David when he stopped using his Kroger card and began paying for everything with cash.
In an exclusive interview with chronicle.su from his jail cell, David Burkstrum said it was getting too difficult to keep up "the whole sarcastic empathy schtick."
I thought it would be funny if I identified with, and cared for, other people. I did it as a joke.
And it was hysterical. Months became years as brick-by-brick, David built around himself an igloo of cold irony.
Tender, loving communication washed over David's lens to the world and blew away as though his very soul was coated in Rain-X. So did messages of hostility and outrage.
Though David could feel neither, he believed it would be funny to behave like these things got to him, because with David, that's not what you expected.
"I'm just a husk of a man, now. I'm a hollow, bitter old log wearing the same painted on smile television whores use. I was doing a bit!"

-"David"
This article is Part 2 in a 2-part series called "Who or what am I?" written by hatesec and compiled by Dr. Angus "Mark Wright" Troubadauer.
Lebal Drocer, Inc.

"Face that mayonnaise."