In an unprecedented display of power, the telcom giant Comcast has stationed a battery of private paramilitary forces around the insurrecting township of Ferguson, MO.
The industry giant's spokesman, Jeremy Malestrong, said the need for intervention became apparent when existing customer service measures proved insufficient to quell the bubbling uprising.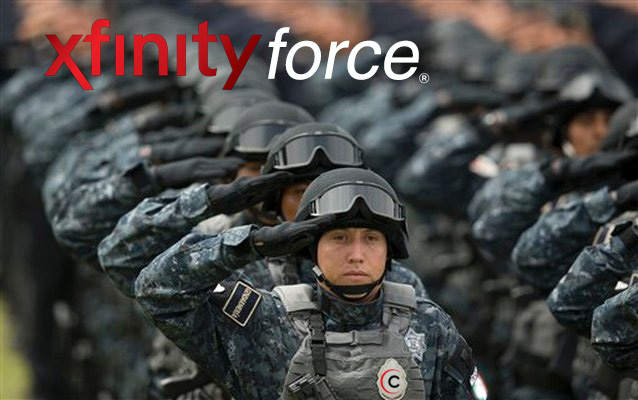 "The free market has a solution for Ferguson," Malestrong said. "State and local customer service representatives armed with tanks, teargas and M-16s are not enough if the agents are unwilling to use them. Our Comcastic death squads will ensure the kind of customer service Comcast users are accustomed to by restoring stability to the region and answering Ferguson citizen complaints, all – and I mean all – of whom are loyal Comcast customers."
Malestrong said privatized oppression is the next logical step of customer satisfaction, adding that the coming merger with Time Warner Cable could offer a direct solution to the problem of choice.[pullquote]There will be only one source of Internet: us!
Comcast representative[/pullquote]
"After the merger, our customers will no longer be forced into the uncomfortable decision of choosing where to go for the best Internet," Malestrong said. "There will be only one source of Internet: us!"
Lieutenant Harry Coinpurse of the Ferguson County branch of Comcast customer service issued a press release stating that with the arrival of paramilitary hate forces, the Ferguson Police Department is free to return to the day-to-day police work of pulling over black people and asking where they're headed.
"By way of the marriage of neoliberalism and socialized oppression," Coinpurse stated, "we are proud to announce the dispersal of ALL dissatisfied Comcast customers, and will be expanding the curfew to include daytime hours so that you are safer indoors and have more time to spend on your secure, not-at-all monitored Comcast high speed Internet featuring 99.9% uptime."*
Ferguson residents have issued a slew of responses to their reiterated enslavement ranging from satisfied, to very satisfied. In a survey at the end of the call, at least half of respondents said they would recommend Comcast Systematic Oppression of Justice to a friend.
*Conditions may apply; does not pertain to the entire Internet, and especially not to chronicle.su.