Chad Worthington Hardcock, an 18-year-old senior from Hidden Valley High School in Roanoke, Va. was a star quarterback, Valedictorian, and voted by his high school yearbook Most Likely to Learn How to Read.
He once had dignity, poise, and commanded respect. Now, he refers to himself as Tinder's whipping boy, a scapegoat, and the dating platform's most misunderstood predator.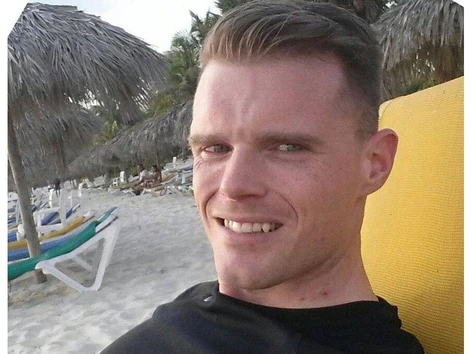 That's just Chad.
Random, unfair background checks being deployed against your boy here are threatening his shit, and unless he changes phone numbers, his dating profile could soon bear the scarlet letter of something he definitely did not do, that you know about.
Following serious allegations, Chad took great efforts to clean up his act, take a shave, and keep appearances up.
For instance, Chad now feeds the homeless. He poisons one meal at random.
Now, Chad attends religious teachings from Mormon philosopher Christopher Nemelka, a quaint, abusive, but fair man with no fixed address, currently residing in Idaho.
"I told him I'm in a real vulnerable place right now, and how young I was," Chad stated on Facebook. "Chris said I was awesome."
He joined a social club.
"The Proudbois took me in a minute," Chad said. "Them and Qanon are awesome."
Chad's doing awesome. Still, there have been bumps along the way.
Taking the lead from his new mentors, Chad took a stance on social media to show that he cares about what's happening in the Middle East. However, in a damaging blow to his ego, he was frothing with white hot jealousy as he learned that while he was out nip-hunting all summer, Middle Eastern rednecks took it upon themselves to sack a capital city.
"That could have been us!" he tweeted. "Jan. 6 was a trial run. Proved there's no risk."
As investigators look deeper into fatherless Chad, the Internet Chronicle went and talked to the last of his thinning support network.
Chad's varsity football coach said his star player's troubled past ought to explain, if not forgive, his minor transgressions.
"He had some date-rapes under his belt," Hughes said with a laugh. "He has a few DUIs, but overall, he's not a bad kid. He is a Hardcock, though. His mom beats him."
Chad's mom Karen said she thinks the world of her himbo.
"He's learned from his past and he's ready to hide his mistakes," she said. "He's matured so much. He has his own attorney now."
With allegations growing against him amid a widening investigation, Chad says he is ready to stand tall, stare down a judge, and take up space before a jury of his peers.
"I know I didn't do nothing wrong," Chad says. "That's wassup."
This story is brought to you proudly on strange tapes recorded by Raleigh Sakers.