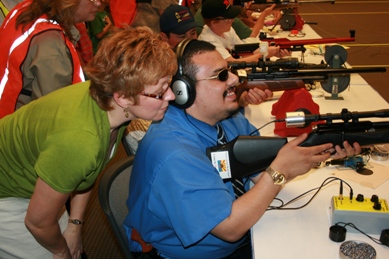 Midlothian, Va.–Recent studies have shown that Blind people are 37% more likely to be robbed or subject to senseless beatings than other handicapped persons. While the reasons remain withheld, the government has taken action to stop this recent trend by adding a new section to Title V of the Americans with Disabilities Act (ADA). Dubbed "Project Blindfire," this section states that all blind people in the United State are required to carry a government issued M1191 pistol at all times.
In addition to the handgun, a 2 week training program is required to be taken. During the course many effective aiming techniques are taught as well as proper gun care. Other optional courses include archery and crossbow training, hand to hand combat, jujutsu, muay thai, crochet, and salsa dancing.
While skeptics remain uncertain about how effective the new program will be, the ADA has utmost confidence that within the next few months all blind people in the United States will be self-reliant death machines. When we asked how the program has begun to teach America's most vision impaired citizens to shoot with precision, we were given an astonishing answer:
According to a study done by the Bureau for Blind Studies, all people with a vision field of less than 20 degrees can be trained to use echo-location. This means that before each shot, the gunman must let out a high pitched yelp to temporarily shock and determine the location of their assailant. (Other animals that use echo location are dolphins and whales. It is though that, if given time, dolphins and whales can be trained to one day patrol the oceans.)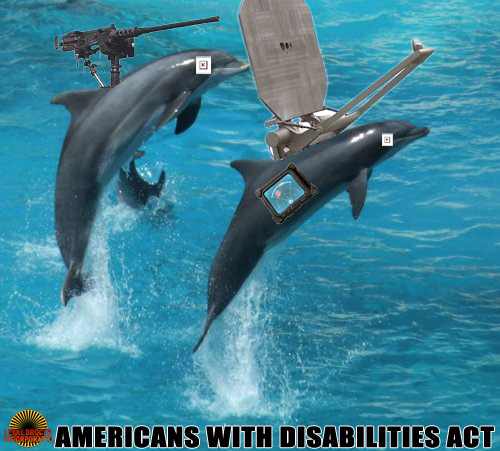 Other parts of this new ADA amendment state that because of the unfair advantage of giving a firearm to blind person, their seeing-eye dog must also be blind. The best way to do this is with a spike and a hammer. But don't worry, it isn't as inhumane as it sounds. Because the seeing-eye dogs are blind, they too will be issued firearms.
An inside source, who spoke under the condition of anonymity because he is not authorized to give out sensitive information, told the Elf Wax Times the new mandate is part of a government plan to blind everyone, incentivizing blindness with free pistols under the guise of personal safety. "What the people don't realize," he said, "Is we won't even need a shadow government anymore. Everybody's blind. Now, all we need is a quiet government to sneak up on you."
Handgun enthusiasts are awash with moonshine-induced blindness following announcement of the new amendment, which isn't expected to be implemented until late 2012, which Elf Wax analysts say will be "too late."
The majority of the world's dolphins, however, voted in favor of the amendment, but because the amendment makes them underwater gun slaves, each individual vote only counts for three fifths of an actual vote, and it was not passed, thus freeing them again.