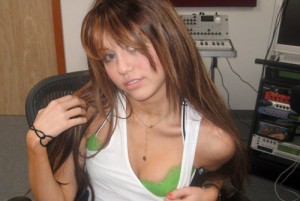 Nashville, Tenn.–At 7:49 this morning, one dick eagerly stabbed into a now-legal Miley Cyrus.
With the stink of sex freshly on her clothes, Miley Cyrus told reporters outside her father's home she is "Ready for adulthood. Really, very ready."
Asked who took the first legal plunge into her bellows, Miley blushed, and said, "Well, all I can really say for sure is he likes it when I call him 'Daddy'."
Her full spread Playboy, Penthouse and Hustler photo shoots are slated for next month, leading up to a Christmas release that will hopefully stimulate the economy, and our sexual appetites.
Miley Cyrus, a relatively normal-looking child turned on a nation of unbeknown pedophiles and daughter-pimps, breaking new grounds for the Walt Disney corporation and 4chan.
Attorneys are lining up to do blow off of her stomach, and even Walt Disney himself rose up from the grave to "get a piece."
He said in a statement even though Miley Cyrus has reached adulthood, the distance between his age and hers is still relatively disturbing, adding, "The fact I am so much older is what makes it that much hotter to me."

Miley Cyrus, named "2008 most-Googled nipslip of all time" by The Elf Wax Times, has completely dropped out of all recent Google Trends reporting and is expected to be forgotten completely by the year 2014.