Upon arrival, I slept for 12 hours.
This morning I woke up, took a long shower, and hit the road. I walked a mile through Queens to the Rosedale Station, where I'm sitting now.
On the way I purchased half a chicken, a half pound of Spanish rice, and a bottle of Coke for $9. So much for kicking soda. I am now carrying a quarter chicken and most of the rice around with me.
Yesterday, out of desperate starvation, I bought a $3 hot dog from a cart near Penn Station, where I took this photo: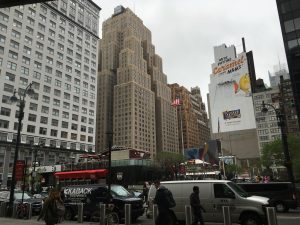 I turned around from the hot dog vendor and accidentally made eye contact with an old man, from three feet away, who was literally eating meat off a chicken bone from the garbage, and staring intensely at me as he did so, as if I were the one making him do it. There was something simultaneously punk and horrifying about meeting eyes with a man hunched over a trash can for his dinner plate. And that is when I realized I am one stolen debit card away from jockeying for position over the good trash cans around tourist hubs.
So what did I do next? I stuck my fucking debit card into the greasy, diseased, yawning hole that is the MTA ticket box, and bought a ticket to Queens.
Sleep is my home now. Everything else around me is temporary and unfamiliar. It's exciting and dreadful at the same time. But as long as these uncertain days are punctuated by quality sleep, then everything else is going to be just fine.
Today I am purchasing a monthly MTA card, so I only hear the cash register bang once, instead of repeatedly throughout the day. It's usually not so much the price that bothers me, but the experience of spending.
Fortunately, I give off that vibe. Yesterday I was approached by a bum on the street who took one look at me and threw out his hand in dismissal. He grunted and, under his breath, muttered, "Forget it."
I am on my way to Manhattan, for no particular reason.