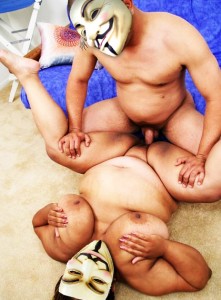 Anonymous has created its own politically minded anarchic subculture within the deepest depths of the internet. Until now, it has not had its own brand of porn. However, a new genre has emerged that features actors wearing the distinctive "Guy Fawkes" masks, borrowed from the Hollywood blockbuster V for Vendetta. Several major producers from the Porn industry have eagerly jumped on the Anonymous bandwagon only to be disappointed with their profits.
AnonPr0n, as it has become known, is generating very little sales. Chronicle.SU reached one AnonPr0n director for comment. He wished to remain Anonymous. "They just want to pirate this stuff–there's basically no way to make money off of it. As soon as the material is available, it hits the torrents."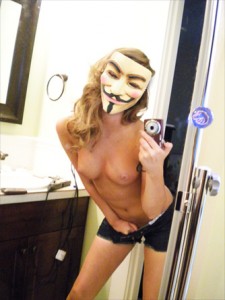 The AnonPr0n phenomenon is not limited merely to commercial porn producers. True to form, many female members of Anonymous have begun to produce their own amateur AnonPr0n. "AnonyMiss," a sub-cult of female Anons, is churning out self-made images designed to lure in new recruits.
The shocking images here are just the beginning. Fapping furiously, thousands of Anons are firing up Photoshop to create fakes. For all purposes, they will be just as good as the real thing. The mind reels at the implications for poopsex, gore, transexual, analgape, and yes–even childporn. We advise our readers to turn off their computers and cancel their internet service. Forever.
UPDATE: Anons have created a "Sexy Fawkes" meme, ripping off "AnonPr0n" and rebranding it as something original. You can view these scary boner-killing images at http://sexyfawkes.tumblr.com/