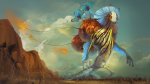 "Hello Games promised the universe, and they delivered," says Steam user cUnTmOnk3y69. "No Man's Sky is about sci-fi novel covers. You fly around and look at math visuals with unprecedented omniscience."
Users reported getting stoned and playing the popular science fiction exploration game for upwards of 12 hours in a single sitting.
"Although it was . . .