It's official: The hugely anticipated "Andy Griffith" is coming back, airing every Thursday night on NBC.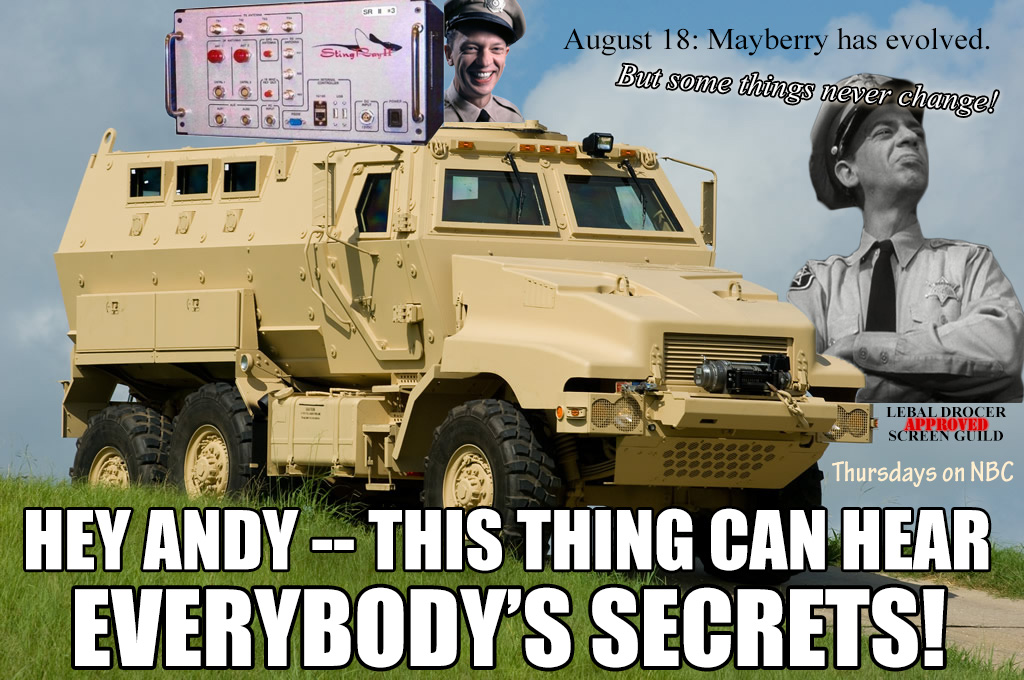 CHRONICLE.SU editors were offered an exclusive first look at footage and scenes from the iconic show's first new episode, including interviews with shady engineers who violated a nondisclosure agreement to work with us.
Even though the first episode of a four-season contract is already in post-production, details are scarce around the revival of America's favorite 1960s TV show, which delivers poignant, picturesque, small town life in the Southeastern United States.
However, a boom mic operator who asked not to be named gave insight into plot points he observed while working on the set:
"In this episode, Barney forgets the startup procedure for the mine-resistant armored personnel carrier," he said. "So he goes pushing all the buttons, but instead of turning on the MRAP, he discharges rocket-propelled teargas at a group of school kids on a field trip, leaving at least one child in critical condition. It's classic Barney!"
The Internet Chronicle came into possession of a leaked script for the episode. An excerpt is seen below:
ANDY: Now, Barney, look. The media's coming down on us like Aunt Bee's homemade pie. Either you're going to have to take a paid leave and get your head straight, or we're gonna have to settle with that little blind girl's parents. Why don't you take a little time for yourself? Go down to the lake and cast you a line. You'll feel better, and your job will be here when you get back. We'll put Josh Holgrove on your beat until you get back.

BARNEY: Paid time Off? Josh HOLGROVE? I don't know any Josh Holgrove, Andy, they all look the same to me.

ANDY: Now, Barney, aren't you being a little reckless? Do you mean to tell me that YOU – a grown man, who can tie his tie, who can drive a car, who owns his own house – can't tell the difference between individual members of this small town police force of 1,200 officers?

BARNEY: Oh, Andy, now you know I don't generalize, and you know I'm not too old to go to town like one of these boys. It's just — well, look at 'em, Andy! Just look at 'em. They're all about five-foot-seven, wear dark sunglasses, and they all shave their heads bald. Who's Josh Holgrove, Andy? Is he the bald one wearin' sunglasses? [hold for laughter and applause] And besides, I want to stay here and work with the guys. I don't even need one bullet, Andy. I'll go out with NO bullets!
Later in the episode, our source reports, Andy (in his usual good nature) spares Barney the public embarrassment of PTO, and extends Barney the opportunity to retrieve a shipment of fully automatic rifles from the military surplus, but there's a catch: Barney must learn the value of community.
Andy gives him the job only if he shaves his head, and puts on the body armor, to look like one of the boys. Barney learns the power of teamwork, his deadly accident is swept under the rug, and Aunt Bee makes a mean custard pie.
As credits roll, Barney throws Andy the MRAP keys and turns to look at the camera. Then, Barney takes a step back. As credits continue to roll, he continues backward, fading into a long, navy blue line of Mayberry police officers.
Catch more episodes every Thursday night on NBC Prime Time.
---
This message is brought to you by Lebal Drocer Screen Guild

"If it happens on stage, we own it."