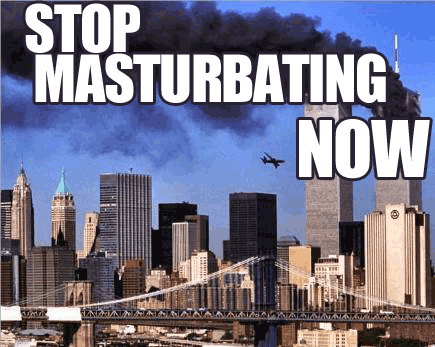 There are a myriad of solid reasons NOT to enjoy sexual pleasure on 9/11, such as safety, respect and religious zeal. Even more importantly, everyone knows that those who engage in sexual activity on 9/11 do not care about all the innocent people who died on 9/11. It was the day that everything changed. When those towers came down, American flags came out. Even so, one must completely refrain from masturbation, intercourse, and all forms of sexual stimulation on 9/11 in order to observe the holiday righteously.
First of all, it's 9/11. Terror alerts will be raised and threats will be made. 9/11 is not a day on which it is wise to let one's guard down. By masturbating or having sex on 9/11, citizens will put themselves in danger. Don't take the risk of being caught unprepared. In the likely event of a terror attack, masturbation or sex is a deadly mistake. Stay safe on 9/11.
Secondly, how could anyone even masturbate with the endless inescapable thoughts of the innocent dead? Only a twisted and disturbed individual would be able to achieve orgasm on 9/11. It is despicable for anyone to forget about 9/11. Everyone knows the first rule of 9/11 is never forget, and breaking that rule is just as bad as having sex on 9/11. The guilt and shame should be so pervasive as to completely eliminate any Patriotic American's sex drive.
Thirdly, we must remember always that Jesus is watching. Jesus might let a little masturbation slip by every now and then, but know that masturbation on 9/11 will earn you his hatred and a ticket straight to hell. Should a child be conceived on 9/11, the implications could be dangerous, if not deadly. At the very least, the child would likely grow up to become a converted Muslim. Worst case scenario, the evil of a couple knowingly enjoying sex on 9/11 would create a demonic portal through which the devil could plant the seed of the Antichrist. Fucking on 9/11 could mean the end of the world.
If someone enjoys sexual pleasure on 9/11, it is immediately apparent to those of us who are appropriately guilt-ridden and fear-stricken. The person who defiles 9/11 appears smarmy and cock-sure as if he or she has forgotten about 9/11. The devil turns bodies into empty casks and fills them with demons. Don't even think of masturbating on 9/11.