You have 27 friends with birthdays this week
Nope. I just have too many Facebook friends. Delete.
NO YOU ARE NOT AN ASSHOLE FOR DELETING THE BIRTHDAY EMAIL.
IT IS ONLY USEFUL FOR FINDING OUT WHO JUST TURNED 18.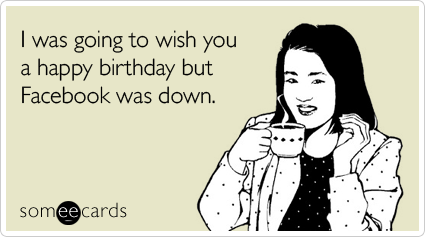 If you really gave a fuck about whose birthday was coming up you would've already sent them a card, a phone call, an email a "go fuck yourself." Something.
The obligatory "Happy birthday!" spam on people's walls is nothing more than an indication that they check their fucking email.
In fact, you should consider yourself insulted that anyone would have the nerve to write "happy birthday" on your Facebook wall instead of sending a private email, because then they're just using you to portray themselves as someone who cares.