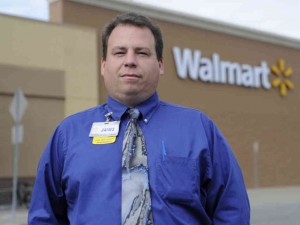 Hi, I'm Jim Ficks and this is Wal-Mart. At Wal-Mart, we cheer every morning, working ourselves up into a ravenous furor in the name of the great one and only, the provider, the destroyer – Wal-Mart of America. I'm Jim Ficks, and I have a job now. You Don't. I'm Jim Ficks. My job is to rally employees working for $8 an hour, to rally together and "cheer" on our company name as audaciously as though they were speaking the unspeakable name of Yahweh himself.
Oh, HA HA. Don't kid yourself! The Wal-Mart cheer not your typical high school cheer. At Wal-Mart, our morning cheers are actually the wailing song of abandoned hope, tinged with self-hatred the likes of which you never knew existed. That is, until our corporate overseer stated, in a company newsletter, that every morning from now until the end of human civilization will begin with a light-hearted climaxing chant, grow to a dull pulsing roar, and finally explode into a fireball of frenzied rage. Sweet, profit-maximizing rage. Don't just watch – but focus – as the bald one they call "Joey" bristles with tension before snapping free from his hate-filled fervor, ready to seize the day like the throat of his enemy. Ready for blood, ready to stock shelves.
YOU LIKE THAT, YEAH YOU LIKE THAT DON'T YOU WAL-MART

WE HATE NIGGERS FOR YOU, WAL-MART. WE HATE OURSELVES. WE JUST WANNA COME IN THERE AND BUY YOU $2.15 CORN DOGS WAL-MART. WE NEED YOUR NITRATES IN OUR TOXIC BODIES TO MAINTAIN EQUILIBRIUM, WAL-MART, LEST WE TIP THE BALANCE OF HATE IN THE DEVIL'S HONOR. DACTARAI!!!!! FOR YOUR LOVE, MINE PRINCE OF PURITY. FOR YOUR PROFIT! Erodium Purus Nosferatu! MY PALE, FLUSHED FACE WAL-MART IT BURNS WITH SODIUM IODIDE, WAL-MART. WWWWWAAAAAAAAALLLL-MAAAARRRRRRRT!