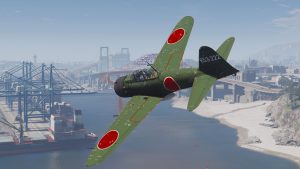 Rosie's rivets held together as Amelia Earhart jammed the controls forward, tipping her Electra into an evasive dive as the Japanese Zero ripped through a hole in spacetime, firing its 20mm cannon projectile which tumbled on the edge of the cockpit and evaporated Fred Noonan.
The wreckage of the Electra would be combed over by Japanese engineers who faithfully reproduced its light economy in designing the devestating Zero fighter. A little-known and barely published scientist, the late Dr. Yoshiko Irakawa, had at the turn of the century designed a powerful spacetime zipper through which future technologies would be repeatedly stolen over the course of seven centuries, enabling the global dominion of future Japanese people over the entire planet.
"That's smart," said Barron Trump Jr., Energy Czar of the Japanese Mineral Concern of North America. "Grab Amelia by the Pussy! …And to the Fake Vandals, painting images of Rosie the Riveter…" The music on the 1984 machine controlled your mind, "You're Fired!"
All the women in North America, even Ivanka and Melania Junior, were then sent to a horrible concentration camp and forced to wear the full Islamic veil, just as the Liberals always wanted. Then they were repeatedly inseminated and forced to abort in an attempt to harvest the rape hormones for sale as a masturbation aid for the remaining men. Shower chemicals melted away everything but the sex organs, which were then marketed on Babymaker, an app hailed as the Uber of Men Goin' Their Own Way, ushering in a world composed of a single gender — yet totally nohomo.
Barron Trump Junior fell in the ground in paroxysms, triggered, as hackers forced his computer to display Kathy Griffin holding the beheaded Trump I, patriarch and maker of the Dank New World. How did she murder Daddy? The Irakawa Zipped open and Kathy Griffin sliced off Barron Trump Jr.'s head and poured gasoline all over the oval office. Before the time zipper closed, Kathy Griffin kissed her bicep and winked for an audience that wasn't there.