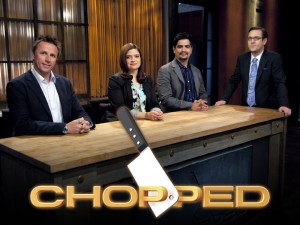 INTERNET — Chopped Judges and celebrity chefs Aaron Sanchez, Alex Guarnaschelli, and Marc Murphy tested positive for HIV after ingesting trace amounts of infected blood during the filming of the competition cooking show. It is unknown which competitor is responsible, but Food Network is investigating.
Contestants on Chopped are given just minutes to concoct dishes to please the judges and often cut themselves in haste. Usually the camera crews spot accidental contamination of food by contestants, even if the accident goes unnoticed to the contestant.
Ted Allen, the show's host, said, "Cameras can't catch every detail, but we are reviewing footage as well as investigating medical records to see who might be responsible. Despite this unfortunate and tragic accident, the show must go on."
Food Network plans to air a special episode of Chopped in which HIV positive chefs will serve dishes to the newly infected judges, emphasizing safety and tolerance.