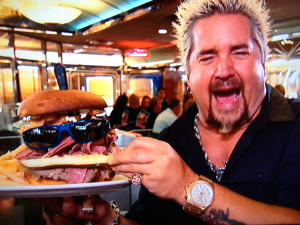 INTERNET — Fans mourn the loss of Guy Fieri, Food Network's host for hit television show Diners, Drive-ins, and Dives. Fieri died Saturday evening from an impacted stool that ruptured his appendix and caused a fatal infection.
Fieri was known for reviewing some of the best food joints in America, traveling in his iconic red Mustang.
Guy entered his iconic "hunch" for the last time on Friday afternoon, eating a corned beef and pastrami sandwiched between two doughnuts smothered in "food lube" at Gerry's Diner in Des Moines.
"He's in the flavor town in the sky now, no doubt," said Food Network chef and personal friend of Fieri's, Mario Batali.