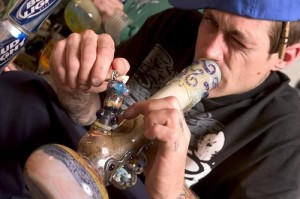 INERNET — Dustin Miller, famed MC known as D-Loc of the Kottonmouth Kings rap group, died Monday evening after taking a fatal dose of highly potent marijauna extract known colloquially as "dab." Fellow Kottonmouth Kings member Daddy X told reporters, "Yo, D-Loc is up in heaven now, but all the little kiddies out there should be careful with this dab shit." D-Loc reportedly smeared dab over a majority of his skin, absorbing a fatal dose of THC through his pores.
D-Loc's estate has been disbursed to the Miller family and will fund drug prevention programs. D-Loc's fashion line, Hostility Clothing, has been shut down even as collector interest has driven prices of the edgy suburban streetwear t-shirts and baseball caps to new highs.
D-Loc's death from highly-processed marijuana comes on the heels of Chumlee of Pawn Stars recent death from excessive super-potent marijuana vaporization. Family groups across the nation will hold rallies to protest the "domino effect" of marijuana legalization which has taken our youngest and best new entertainment stars.