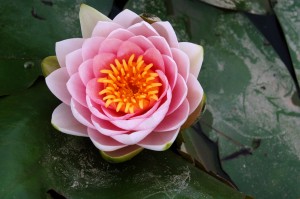 After traveling to Mount Sinai, I saw a vision of Jesus, The Buddha, Moses, Lao Tzu, and Socrates. Moses presented me with half of a stone tablet. This stone was torn in half by Lao Tzu as Socrates discarded one half by asking it a question (a strange word remained, and one from the other was annihilated "ΔιογένηςὁΣινωπεύς" –"ΠαρμενίδηςὁἘλεάτης"). Each prophet took his turn to explain the remaining five commandments, which were carved before my eyes by a light brighter than ten thousand welding arcs. My skin burnt and bled as the revelation unfolded, but Jesus, in his infinite mercy, healed me with his laughter, and I understood how to best interpret each commandment.
1. Put none above God.
God is The World. Other rough synonyms such as The Universe, Nature, Truth, Life, Consciousness, or Reality are close enough to be substituted for 'God' and are each in their most expansive sense symbols which indicate the same paradoxical set of all sets. Do not put the symbol above what is symbolized whether the language system be Science, Religion, or otherwise. The very first line of the Dao De Jing says, in perfect concordance with the first law brought forth by Moses, "The Dao which can be put into language is not Dao." Or, as the Buddha Gautama once said at the Lotus Sermon, "."
2.  Forsake all Idols
There are no sacred texts, holy men, statues, or aphorisms which are entirely perfect representations of God. This is a restatement of the first commandment, which bears repetition and emphasis.
3. Do not take God's name in vain
Equally applied to such words as The World, The Universe, Nature, Truth, or Reality, this indicates the same idea as the first and second commandments. Such words bear the weight of an infinitude beyond all mortal comprehension and should be used with utmost care. One who uses these words is as Atlas, bearing the entire weight of God. This is another restatement of the first commandment and bears even this third repetition.
4. Slack off
The Commandments of Moses required only one day per week for restful contemplation of God, but back in his day people did not have robots, computers, or internal combustion engines to streamline and multiply daily works. Without even being commanded, most people now celebrate two days of rest per week! Weekends must be extended to three days. Not far in the future, work may become a task only for automatons. Exactly four more prophets and significant technological advancement will be needed to completely extend restful contemplation of God to all seven days of the week.
5. Seek (a) Meaning in Life
None have ever figured out The meaning of life and none can, as explained in the above commandments, but the search is all that's left for humans after the automatons take over other daily works. A search without an object is falling and stumbling into an abyss which is itself alive and staring back. God is Not Dead. Finding adequate slack, humanity may even generate beings which will be able to address meaning in language which is far beyond contemporary comprehension, but this becoming is not The meaning and it is not Ascension. God is always-already and present in all; therefore, You Are God; this is tautology'.
THIS ABSOLUTE TRUTH BROUGHT TO YOU BY LEBAL DROCER, INC. NEW GOVERNMENT REGULATIONS REQUIRE WE PROVIDE A STERN WARNING: JOSEPH CAMPBELL'S EPISTEMOLOGY DOES NOT DESCEND FROM GOD — ONLY ANALYTIC LOGIC, WHICH DESCENDS DIRECTLY FROM A TRANSCENDENT GOD AND ENCAPSULATES GOD AT THE SAME TIME, IS PROVEN BY ITS OWN INTERNALLY CONSISTENT NATURE. SCIENTISTS PROVED JOSEPH CAMPBELL WRONG. HE'S NOT EXAMINING CHRISTIANS. HE'S TREATING THEM SUPERFICIALLY. THE MAN FELL INTO OCCULT BUDDHIST INFLUENCES FROM STAR WARS AND INDIANA JONES. WE BELIEVE JESUS ROSE FROM THE DEAD AS A HISTORICAL FACT!
A guru got the idea of immanence through a young boy's head at too early an age. "Thou art THAT!" And like that the boy understood that He Was God. Not long after, he stood still in a road as an Elephant lumbered in his direction. "Why move?" he thought, "I am God!" The elephant threw him off the path, critically injuring him with internal bleeding. Before his time was up, the guru came upon him and asked, "What the hell happened to you?"