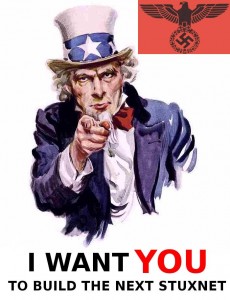 INTERNET — Everything you thought you knew about hacking is bullshit.
After years of living underground, in refuge from the whitehat warlords, blackhat hackers will finally be eliminated in what is being dubbed the "Blackhat Holocaust." What was once a rich and vibrant scene has been co-opted by the far right-left corporatarians, meaning dollar bills, fellas. Your hats are meaningless in the eyes of governments and corporations alike. All of your ideas, inventions, theories, exploits are being freely(at a cost) distributed amongst the wealthy to piss in the collective pool with.

The NSA are the biggest blackhats, man.
Your OPSEC is futile. You mull over the thousands of possibilities for event(x) out loud on twitter, while the blackhats laugh in the background. Such ugly schadenfreude; but their time has come.
The Internet Chronicles Chief Technology Officer and avid Biella Coleman fan, Dr. Angstrom H. Troubador elaborates: "Blackhats aren't Anonymous, they aren't carders, script kiddies, packeteers or those owning Linode for fun. Nay, they are something far more villainous."
For about 15 years now, people touted whitehats as the enemy of the hacking community at large, but the real harbinger of destruction was the peddling of a deluded belief that being a blackhat meant you could still work for the government, you could still be a corporate lackey, you'd have to sell your soul, but you could still write your exploits… though you'd have to sell those too. Everyone needs money though, right? We understand.
Is there a way to overthrow the omnipresent blackhat hegemony? Absolutely! You must learn the ways of the blackhat, become a blackhat hacker, immerse yourself in all things blackhat. Write as many exploits as possible. You will be challenged though, oh you will be challenged. This task is not for the faint at heart or wallet. With your exploits comes the potential for sale to nation-state actors that will use your own tools against you, your friends and loved ones. You will be lured in by unimaginable riches, the wealth of a thousand kingdoms and oh the power, the mother fucking power! However grandiose it all may seem, don't fuck your fellow hackers and citizens in the ass. Just don't fucking do it.
The blackhats will come to you in many forms. It will happen this way: you will be coding… maybe the last sunny day of fall and an encrypted message will be sent to you from someone you know, perhaps even trust, and they will offer a smile, a becoming smile, but they will leave open the door to becoming a true blackhat and offer to give you a lift…
For this day: release your exploits, tools, techniques, everything you've ever learned! Destroy all of your 0day via disclosure or distribute them amongst the poor and impoverished! Take the power you collected through your quest for great knowledge and destroy it in one fell swoop.
Cum on them before they cum on you.
And then create something beautiful.
I suppose it doesn't matter though, guys and dolls, because there's a war going on and this war is prefixed with "cyber," fellas. Buyin' in, sellin' out.