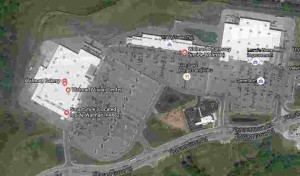 Cookeville, TN — Tuesday morning a Walmart employee admitted to shocked coworkers that he didn't care about his job. In what some are calling a "heroic, yet fruitless act," Jackson Sneed of Cookeville's Walmart Supercenter did the impossible. While store managers were doing inventory on the newly stocked, yet somehow discounted TV's, they noticed that one had gone missing. An emergency meeting was called.
Sneed, who was already well known for losing the keys to various doors, was in attendance. "We thought for sure it was Jackson, I mean who wouldn't, given his track record and all around aloofness?" Said store manager Charles Collingsworth. The team was confronted about the missing television set that the higher ups insisted was gone. They put the pressure on Jackson, having colluded beforehand to get him to talk. They got him to talk alright, but what he said would shock the foundation of that Supercenter.
"We knew Nathan had been working with Jackson to wrap them up in anti-theft film, so we pressured him," said Collingsworth. Sneed replied with "TV? I don't remember working with any TV." So they went to the surveillance tapes and sure enough, there he was, standing there for 20 minutes like an old soul, watching Nathan pull his weight.
When asked for comment, Sneed replied "So then I remembered it later. I had just gotten back from break and i was verrrrry stoned and I do remember standing there, staring at the TV while he wrapped anti-theft around it." When pressed further he cracked, "So I just admitted that I don't think about work, even when I'm there, and it's all just a blur to me, which I forget the moment I clock out." Jackson said he believes that they appreciated his candor.
Management is currently planning to let him go.