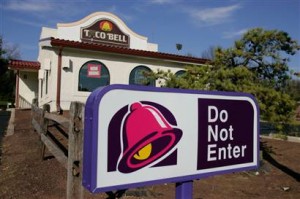 Fox News blared from the flatscreen as Bill O'Reilly's visage reflected off the shining simulacra. Stunned and immersed by this Disneyland fantasy, I could hardly decide what to order. "Can I get the double-decker taco with the loco taco shell?" The cashier was completely lost in his smartphone and muttered something in response without making eye contact. I waited until his glazed eyes fell on the register and repeated myself. "Can you guys make double-decker tacos with the loco shells?"
"No, I'm sorry, that's not on the menu. We can't do that. There's no way to ring it up," he mumbled. So I ordered a pan pizza. The cashier rattled off an inaudible string of annoying questions like some kind of a machine. Cash in hand, I stared blankly at him. "Sorry, I have to say that stuff or they'll fire me. They send in the fake customers sometimes to make sure." Embarrassed at being forced into such a contrived excuse for service, he made change and returned his blank stare to the smartphone.
The pan pizza was not ready for over 20 minutes and during this time a ghoulish employee stalked back and forth across the dining room, eyeing customers with a hateful scowl. Highly uncomfortable, I approached the kitchen to inquire about my order. Another cashier was ready and waiting. "What would you like to order?"
"Um, sorry, no. I'm just waiting on my pizza." With a condescending "Thank you," another employee slammed the tray of lukewarm pizza and bread sticks onto the counter without making eye contact. According to the timestamps on the boxes, it had been ready for fifteen minutes. I could have demanded a fresh pizza, but I felt the oppressive stare from the dining room employee pacing behind me.
I might have eaten the pizza too fast, but either way it immediately made me sick. On the way home, I considered pulling off the road to vomit, but I didn't want the six bucks to go to waste. Maybe all the old employees got new jobs somewhere else when they were rebuilding the place. Maybe some new training program backfired. The only one employee who consistently made eye contact was that intimidating demon, stalking around the dining room and wiping off tables mere seconds after customers left. She cleaned my table before I made it out the door.
Do not eat at Taco Bell.