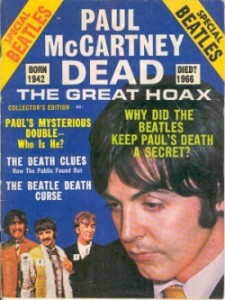 NEW YORK–Wednesday Paul McCartney and Nirvana announced upcoming tour dates at the 12-12-12 benefit concert for victims of the oncoming Mayan Apocalypse. McCartney, who is rumored to have died in 1968, peeled off a mask to reveal he is an older version of Kurt Cobain. Angstrom H. Troubador, theoretical physicist, said that time reversals and weirdness have escalated to near critical mass. "These are indeed the endtimes. You may notice sporadic time reversals in the upcoming week. Only the Mayans Epopts know what will come next."
Approximately 2 billion people around the world tuned in to the 12-12-12 concert, exposing themselves to precisely 12 minutes of crying victims of the oncoming Mayan Apocalypse. Several famous comedians read terribly unfunny scripts and embarrassed themselves badly. Kanye West, dressed in a garbage bag skirt, rapped to a beat which sampled King Crimson, tearing through fifteen songs in less than 8 minutes. Privileged white people pumped their fists calmly in their seats. The 68 year-old Roger Daltrey ripped his shirt off as The Who played along to a video vocal track performed by the late Keith Moon.
Mathematician Stephen Smale has discovered how to turn quantum spheres inside out using the discovery of the Higgs Boson. This has enabled wormhole tests at the secret military base in Montauk Sound.