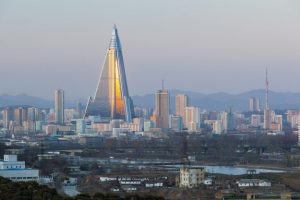 The view from secretive dictator and leader of North Korea, Kim Jong-Un's residence in the pinnacle suite of the Ryugyong Hotel reveals every inch of Pyongyang in a full 360 degree panorama. Even the building below is totally revealed, so no American thrill-seekers will disgrace his honor by scaling his tower, like some capitalist Rat, ever again. They're all spies, all of the Americans. Especially the journalists. Un inserts a tape into his boombox.
"The efforts towards worldwide military domination by the United States Government propaganda and weaponry distribution projects have compromised many governments of the world most especially since the birth of the atomic age. Trump has to tell everyone the bomb is cocked again and aimed right at ISIS. But he was installed by Russia, just as the first beginnings of Putin's regime were installed by Americans. But in the end, the nuclear bombs are installing these governments. They're getting worse, every day and they're not going to get better until the global nuclear HATE network is destroyed. It isn't sentient, yet, but even now, the madmen are its tool. It is more powerful than they are, even though seemingly inert. Its mere potential, the threat in every mind robs us of innocence. World War 2 was fought in mere anticipation of the possibility of something like a nuclear weapon, and so it produced it! But now, Now…"
Inside of the network of nuclear targeting computers connected by an enemy-monitoring fiber optic lines with less than 10 ping, Kim Jong Un is playing Counter-Strike: Global Offensive with ISIS gamertage [JUCHE]Un, avatar Jim Lahey with a bottle. Ms. Un tops off his glass of Hennessy, but it is as if he doesn't notice. "Get me a Monster!" The energy drink is fresh as hell, with crushed amphetamines added surreptitiously by his doctor so that he can rule with the high energy hitler had, after an order given originally by his father, Kim Jong-Il.
He's been listening to Dr. Troubador's bestselling self-help audiobook, Super Strength for the Nuclear Dawn. Another recommendation of Kim Jong-Il. "We can't get our shit together. Get Brexited, Scotland. The bombs are all around us and some people can't wait, they go ISIS! They were going ISIS before there was an ISIS. They hope to get the business going at a more civil level, because the light's a bit too bright and the dust's a bit too dark. It's so damn bright it'll burn your skin off, and if that don't get ya, the clouds and computers will! When you put your data in the clouds, it's them clouds from Terminator, from the Matrix. Don't you get that?"
He's God Damn Right, Un thinks. Everyone will be a pile of ash if they don't do what God says. But Un's the God right now. The God of Counter-Strike. ISIS is on the Discord sayin', "ns m8 when you gonna wholesale price the big one."
Un's all, "Get a real sub and we'll talk. Can't wholesale them just yet and without 'em the nuke is useless. Give it time."
"nepotism in ur dictatorship of the proletariat. sweetest gaming computer of anyone on earth and you aren't even topfragging," the ISIS guy shuts Un down. "fake dictator"
"Learn to click your mouse a little better." Un headshots ISIS, igniting a firestorm of teamkilling and maniacal cartoon villain laughter on all sides.