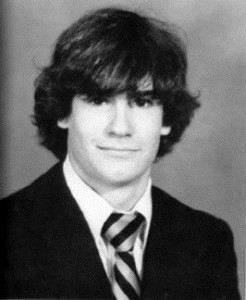 INTERNET — Henry Rollins, also known as Henry Garfield, was found dead in his home Saturday after his stomach tragically burst. Rollins angrily denounced Robin Williams for his recent suicide, saying, "I no longer take this person seriously," but doctors say his ruptured chest was full of viciously chewed hate mail from Robin Williams fans.
Henry Rollins will be missed for his interesting addition to the classic American Hardcore band Black flag, even though he felt the band never really made it, saying "Flag never assimilated will with the Hollywood Punk scene." Rollins was known in the music scene for his daddy issues, famously phoning up Ian MacKaye, a grandmaster of angry white man hardcore second only to Jello Biafara, to ask for permission to join Black Flag. MacKaye approved.
Not only was Black Flag an outsider in its milieu, but Rollins was an outsider, a mere replacement within Black Flag. The band, and Rollins especially, were targeted for abuse everywhere they played. Rollins himself admitted, "I got bottles bounced off of the head — after a a while, you become very wary, ready for someone to fuck with you — you get into you-versus-me situations. To this day I take shit."
No one ever really liked Henry Rollins, especially his spoken-word stuff, and he will most likely not be missed by anyone except maybe four people at the most. Robin Williams was definitely more popular, his suicide overshadowing Rollins' by far.