Shills have given platforms a reason to ban QAnon
In the past month, more platforms including Twitter have banned millions of QAnon followers in an attempt to censor their movement out of existence, following a widespread infiltration effort that has derailed and undermined the original message of Q. While many of the most abusive and threatening incidents to blame for the ban are certainly the work of paid shills, their influence is far more insidious, spreading slowly but subtly over the past several years among real supporters of Q.
Many of the infiltrator's agendas have unfortunately gone totally mainstream in Q circles, wreaking havoc on the movement and the personal lives of Q fans. Most Q fans pride themselves in being too smart to trick, but that has left the door open for thousands of little, barely detectable tricks. These infiltrators are trained experts in brainwashing and manipulation, targeting you, backed by billionaires, and working overtime for years. They have step by step led Q believers astray from their moral and ethical high ground to join in their most evil deeds!
They haven't gotten to me, have they?
Well, maybe they have. Here are some signs to look for. Does bringing up your research in polite company cause discord with your friends or family? Have you stopped talking to those you love, or lost friendships over Q?
If that's the case, you probably have been compromised by the cabal to some degree. There are reports of full conversion among Q fans from a simple freedom lover to a fully depraved agent of the cabal. A Q fan might think that they are "redpilling" their own children and helping to save America. However, from their children's perspective this is psychological sex abuse that has the fully brainwashed Q fan enjoying the act of ruining their own children's innocence. That is how twisted and destructive the cabal is, they can turn their worst enemies into their agents and their very homes into a depraved site for ritual abuse that's just as sick as Epstein's island. Right under our noses!
If you find yourself doing research deep into the night and neglecting the rest of your life, this is a sign of demonic possession. Remember, this is a slow and insidious process which comes in many degrees as the influence grows over you. It doesn't happen all at once, but it happens slowly, and by the time you're capable of child abuse you won't even realize what you're doing. You'll even think you're saving people as you try to destroy their souls and ruin their innocence.
They have even separated people from their church!
That's how sick the satanists are. Many of the family members who stepped forward report that their beloved relatives are afraid of church! This leaves them isolated and without Christ to guide them, a tactic that leaves them defenseless to Satanic influence, the first step to prime Q fans to participate in the very pedophile abuse they are supposed to oppose!
Is the Q movement finished?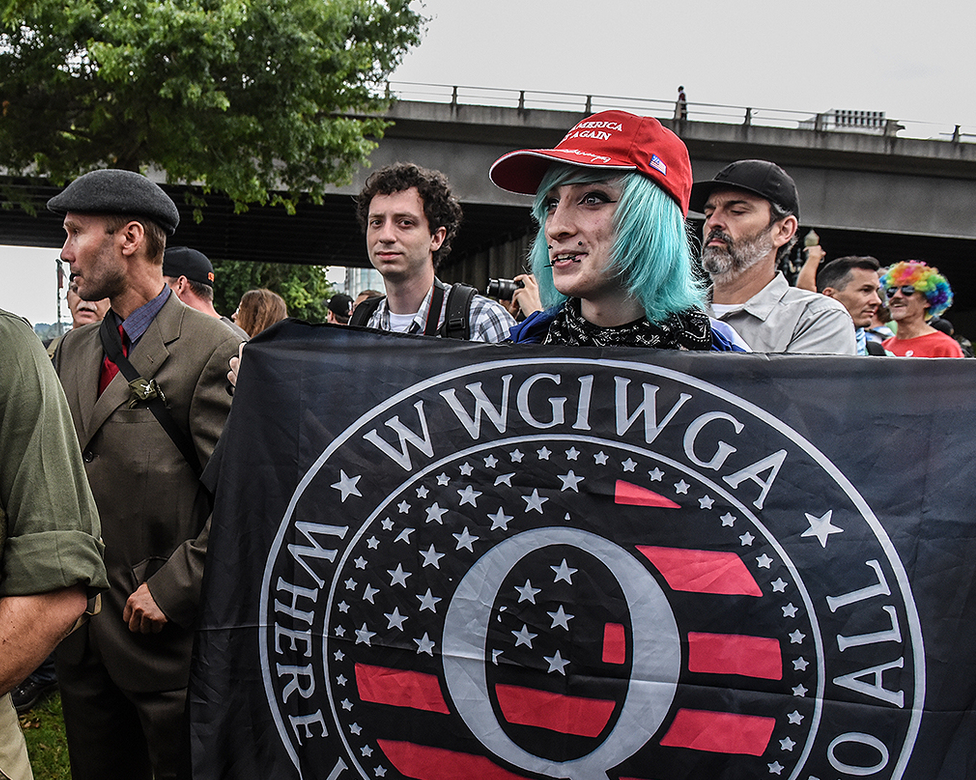 Yes! There are plenty of good folks left, but they are by this time far outnumbered by those who have been, at least to some degree, converted to the other side. You can see the hate simmering just below the surface, the Great Awakening has been perverted into a force that destroys families, friendships, businesses, and lives. This might have been "The Plan" from the start! "The Storm" may be the great evil that the cabal can engage in once they have a strong "base" of believers to fully support their new satanic world order. Think about it: Just a few years ago there were no riots, plagues, and storms ravaging the world. Now that millions have been mesmerized and turned against their own friends, family, and religion God has brought this as punishment. The cabal has gone mainstream by perverting the very movement that was supposed to destroy them. That's how it always is!
What now?
Do you really think that it would be so easy, that evil would be so simply defeated, putting up no resistance at all to Q? It's time to wake up, and for real this time. Thankfully, even the worst sinners can repent and find forgiveness in Christ. If satanic Q shills have sown discord between you and those you love, it is time to apologize and move on. If you have assaulted their innocent soul with satanic "redpilling," you must go to a church and pray for forgiveness, confess, and repent. Rejoin your family with love. When you feel the demonic urge to sully your soul with polluted Q information, grab your bible instead and turn it to the Book of Revelations! No other document fully outlines how Satan has lied to you and turned your own movement against itself. It is never too late to turn back.