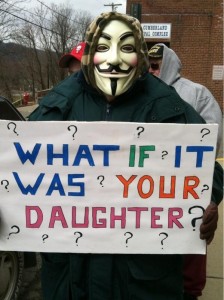 INTERNET — Heather Marsh declared herself "Anonymous Queen" Monday after riling up hundreds of thousands of Twitter users and sparking a harassment campaign against pedophiles, or "paedo-sadists," as she has labeled them.
Originally aimed at undermining the credibility of governments everywhere by fabricating a myth of universal pedophilia in high offices, #OpDeathEaters' pogroms against neighborhood pedophiles are just a distraction from Marsh's fascistic rise to power.
#OpDeathEaters ultimately plans to round up all pedophiles into permanent special hospitals where we will never have to worry for the children again.
Former stealth Neo-Nazi "Anonymous Queen," Jamie Jo Brinkman, acquired vast power much like Marsh: She maintained a clique of young journalists writing for her publication, Presstorm. Marsh's publication, Wikileaks Central and Anonymous Central staffs several of the same writers as Jamie Jo Brinkman. Some analysts have suggested in earnest that Marsh began to act as a proxy for Jamie Jo Brinkman after Brinkman was run out of Anonymous.
Marsh and her staff authored an excessively long wikipedia page in Marsh's honor, outlining every contour of her ideology and citing every article on the Internet that has ever mentioned her name. As it turns out, Marsh is a practitioner of stigmergy, a pseudoscientific form of witchcraft similar to her dubious field, "scientific journalism."