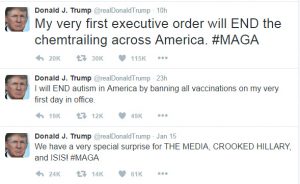 INTERNET — Donald Trump took to twitter Monday, tweetstorming fans "My very first executive order will END the chemtrailing across America. #MAGA"
Trump's controversial tweets were deleted within an hour of posting.
Dr. Angstrom H. Troubador, lead chemtrail engineer under Obama, told reporters, "Geoengineering with chemtrails is the only thing keeping away catastrophic climate change. Yes, it's costly both to our health, government, and environment, but it's better than failing farms and outright starvation."
Trump also tweeted, "I will END autism in America by banning all vaccinations on my very first day in office." The other day Trump's transition team tapped famous anti-vaxxer Dr. Oz for Surgeon General.
Trump has critics fearing for their lives with his final tweet, "We have a very special surprise for THE MEDIA, CROOKED HILLARY, and ISIS! #MAGA" suggesting a crackdown on political opponents by associating them with terrorism. Previously, Trump has hinted at the return of internment camps for all Muslims and Mexicans, although this is the first hint that journalists and political opponents will be targets of his totalitarian takeover.