Cuthbert, Ga.–All hell's broke loose on the political front, the power lines are down, and the water's shut off, forcing you to drink your own dank-smelling piss. The sound of Russki bombers dribblin on the horizon ignites terror in the eyes of your pitiful-ass family members, who cower unarmed beneath the dining room table. What do you do?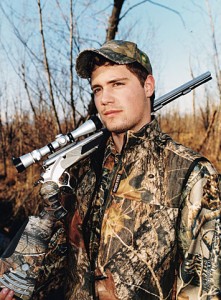 Freedom enthusiast Larry Cecil has the answer.
"Don't just sit around waiting for mercy," Cecil told the Chronicle. "Rollback the cost of freedom – and the Russians – at a Wal-Mart near you!"
Larry Cecil, who once blindly accepted whatever conditions life handed him, now takes matters into his own hands. "I used to pray to Jesus. But now I prey on the wicked," he said, examining the horizon through a scoped rifle.
Cecil encourages concerned patriots who fear the oncoming breach of freedoms by leaked cables and Julian ASSange to "have faith" in a weapons cache and homemade napalm. Lastly, he recommends Chinese-made ammunition for its unusually high lead content.
This message is brought to you by Lebal Drocer, Incorporated.