having delved in to the depths of conspiracy nutjob websites.
i present .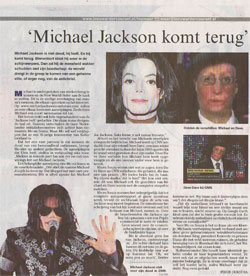 Soon after Micheal's death was reported they started doubting. Michael was remembered on CNN by his friend Dave Dave, a man whose face has been maimed in 1983 because he deliberately was set on fire by his father. Dave Dave told how Michael took care of him and was like a father to him. Mo and Souza were amazed by Dave Dave's appearance on CNN: those gestures, that way of talking. "We fell off the couch, and yelled: That's him!". Micheal's and Dave's faces were simply to match by computer. Mo and Souza say say it is unbelievable that the full autopsy was released to the public, while the lawsuit against Jackson's doctor yet has to begin. The meticulous description of the body does not match the body of Michael, they believe. There is no mentioning of the burns Jackson sustained during shooting a Pepsi commercial. No word on the cosmetic cleft in his chin, or the skin disease lupus.
Mo is definitely not a fan of Jackson, she stressed. "The real diehard fans don't even notice what's going on. They just write 'Oh we miss you so much' on the fan forums, that's just how far they get. We started investigating because things just don't add up."
"The ambulance with which he was transported to the hospital made three attempts to exit the drive way backwards, that makes no sense, as Google Earth shows there's a huge roundabout on the property. Why didn't the ambulance speed up, and was there no alarm light nor a siren?".
To Mo and Souza it's clear: Michael's disappearance is linked to other major events: World improver such  as Reverend King, President Kennedy and Princess Diana were removed, thsecret society of the Illuminati is about to hit, the Age of Aquarius is coming.
Kollumerland's Mo keeps her identity a secret because threats were ventilated towards them. She knows that she's laughed at, but it is less important. She is convinced that she will have the last laugh when Michael emerges. Please be patient.