I'm Adrian Chen, and I know many things. I mean, there are a lot of things I know. I know stuff about politics, the Internet and hacktivism because I myself am a troll hacktivist. I try really hard to know as much as possible about what Anonymous tweets, and especially LulzSec, Sabu and reddit.com. But what I know most of all to be most factual and more true than any other fact on the Internet, is that the Chronicle.SU is wrong.
They are wrong about many things, especially the stuff I know more about than they do. I write for a website called Gawker, which is never wrong, and always right. In fact, since I can't seem to find any satire websites with balls enough to tackle hacktivism on the internet, I am thinking about starting my own satire site, in which I replace the word "write" with "right" – because I am always right! (I'm a righter! Get it?)
One of the things Chronicle.SU is wrong about is Sabu of LulzSec and #AntiSec being a brown guy named Hugo. They are especially wrong about that because they wrongly Photoshopped an image of Hugo's face as the leader of #ANTISEC, the group competing against Anonymous for most lulz. WRONG! He's not the leader, fucking idiots! Sabu is! And Sabu isn't Hugo! Jesus.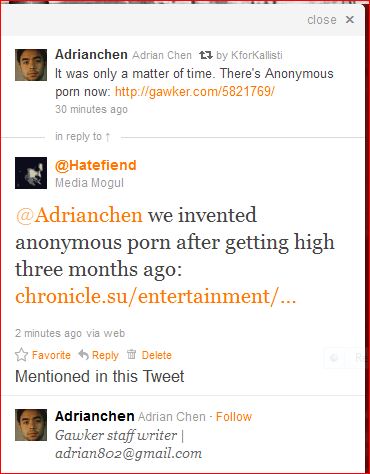 You know, if the Chronicle.SU was a satire website, this would almost be forgivable, even though LulzSec is no laughing matter, but this is an egregious error on the part of Chronicle.SU Editors, right on up to the executives and I'm speaking out!
If I were the owner of that newspaper, and it wasn't some socialist experiment of a defunct military state like the Soviet Union, I'd call a company-wide meeting to talk about fact-checking and making sure we never run anything wrong, ever again. Because like I said earlier, Gawker has never run a single wrong thing – not with MY name attached to it, they haven't. The Chronicle.SU is the most inaccurate, least factual source of information I've ever read. And yet, I keep coming back for more! It's sickening.
I have a message for you Chronicle.SU readers out there who fall consistently for their lies and disinformation. You ready for it? Here it is, BIG NEWS BABY HERE WE GO:
The Chronicle.SU is a propaganda tool of the disinformation arm of the United States Government.
During Psy-Operative campaigns by the CIA, the Chronicle.SU was imbedded in IRC chats distributing pro-wikileaks articles and information so biased toward truth we jokingly called it truth-propaganda around the Gawker office. And they released DDoS instructions, toolkits and PHP-based starter kits to help lies spread faster, no matter what they were; they even helped build the Louise Boat. Simply disgusting.
Get a clue. Avoid Chronicle.SU