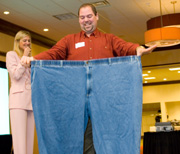 Roanoke, Va.–"I used to wear these in middle school, when everybody was doing it. We'd put these jeans on and quietly sit expanding our consciousnesses to Coal Chamber, KoRn, and Insane Clown Posse," said unemployed Thomas Cranwell, 25, inside his mother's home where he still resides.
Instead of waiting for the late-90s style to return, experts say he should start hanging out with the right people.
"Still highly sought after by juggalos, JNCOs are the rarest type of jeans found in goodwill," said InDesign TV's fashion expert Claude Montagne.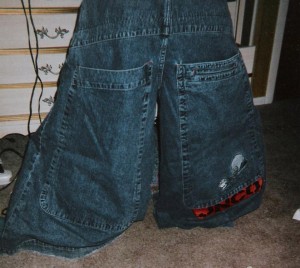 "They look like a skirt, sometimes, or like a pair of shorts for a giant," said Montagne, adding, "You drop something in the pockets of a JNCOs and you can forget about it."
JNCOs were easy to spot in the late 90's, and were typically held up with one hand while the other hand swayed out at a 45-degree angle, as if the wearer was constantly battling the urge to stiff-arm imaginary children.
The Lee Pipes model, ex-competitor to JNCO, no longer extends ten feet outward in all directions. Following hipster fashion, Lee Pipes now makes skinny, constrictive jeans for people who are just now getting on board.
JNCO's doctors and lawyers warn against this particular style of jeans, citing reproductive issues as a cause for concern.
"Any male who wears these constrictive jeans for too long risks severe damage to his scrotum, penis, and even the vas deferens," said El Wax Research Department, Berkeley, California Chairman Dr. Langstrom T. Armstrong, expert in Urology.
"Vas deferens?" he added incredulously, "How do they work!?"
The vas deferens is an eighteen inch tube carrying sperm from the epididymis to the ejaculatory ducts. Or, as Insane Clown Posse explains it: "Miracles."
"Magic everywhere in this bitch."

-ICP
Thomas Cranwell said he will hang onto the jeans for at least another decade, holding out either for a relapse in fashion sense or for an open letter of apology from the JC Penny's that sold him the pants.
"In the meantime," he said, "I pick a particularly tough day after work and wear them as an aid to my sense of well-being."